Week 2: 14-20 January 2018
We started our second week with a classroom day. Between the exciting day at Giza and the three-day trip to the Delta to come, it was a relatively calm day. We enjoyed a seminar from Marleen about Dayr al-Barsha, which is a site in Middle Egypt where the KU Leuven has been doing excavations since 2002. Dayr al-Barsha was mostly known for the beautifully decorated tombs of Middle Kingdom governors, but around that small part of the site much more is to be found. Unfortunately the excavation season at Dayr al-Barsha starts only after our semester in Egypt ends, so we won't be able to visit.
There were a lot of places we did visit this week though! On Monday we started our three-day trip to the Delta in Tanis. Tanis was the capital of Egypt during the 21st and 22nd dynasties and the site holds many colossal statues, obelisks, stone reliefs, and tombs. Most of the kings of the 21st and 22nd dynasties quite cleverly re-used stones from older monuments of different pharaohs. The tomb of Osorkon II is covered with reliefs that even had some traces of their original colours. A truly remarkable sight!
The next morning we woke up early to visit the Port Said museum. We had been warned that the museum might be closed for renovation, but figured we would see if it was open anyway. When we arrived at the scene, the entire museum turned out to be gone. The building has been torn down and all that was left was an empty lot. Where the collection has gone, we don't know. So instead we drove on to Alexandria, with mostly Greco-Roman sites, since the city was founded by Alexander the Great. We there visited the Alexandria National Museum, which did not disappoint. We also visited the catacombs at Kom el-Shoqafa which contained dozens of burial places, but was partly flooded by groundwater.
On Wednesday we visited the 15th century fortress of Qait Bey where the great lighthouse of Alexandria used to be. We got struck by some Mediterranean weather (wind and actual rain!) and went on to Kom el-Dikka, a roman site that had an amphitheatre, bathhouse and the remains of some villas with beautiful mosaics. The last visit of our trip was to the Bibliotheca Alexandrina, the new library that was built in 2002 as an homage to the Ancient Library. The Bibliotheca Alexandrina is dedicated to science and research and has 4 museums and a few art expositions.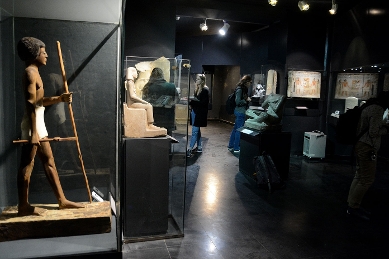 On Thursday we visited the Swiss Institute in Cairo (the last one of our institute visits) which is located in the villas of Ludwig Borchardt, the famous Egyptologist. Friday was our day off, but on Saturday we got to go on another excursion. This time we went to a site at the Red Sea: Ayn Sukhna. This famous site was a port from which many pharaonic expeditions to Sinai and Punt departed. We got a great tour from the site director, Claire Somaglino. She showed us inscriptions that were carved in the rock by kings from different periods, galleries where remains of an ancient boat were found that for some reason had been burned, and the fieldwork that they were doing right now: the excavations of multiple buildings and copper workstations. We even got a tour through the restoration tent, where many found objects were displayed, including a plaster cast of Middle Kingdom footprints of a man and a dog that had been found during the excavation. Afterwards we visited the Suez National Museum, which has a great collection of expedition and seafaring related artefacts. And because this much blondness could not go unnoticed, a group photo was taken for the Facebook page of the Suez National Museum. So, check us out there!
Anne van den Maagdenberg