A warm welcome for international students: 'I'm already in love with the Netherlands'
International bachelor's and master's students started the OWL on Monday morning 28 August. This introduction week gives them the chance to know their new university, city and each other.
It's buzzing at Lammermarkt, the meeting point for all participants and organisers of the summer edition of Orientation Week Leiden (OWL), Leiden's introduction week for international students. People are talking animatedly or looking for their mentor, identifiable by the bright-orange T-shirt and handmade sign with a number on it.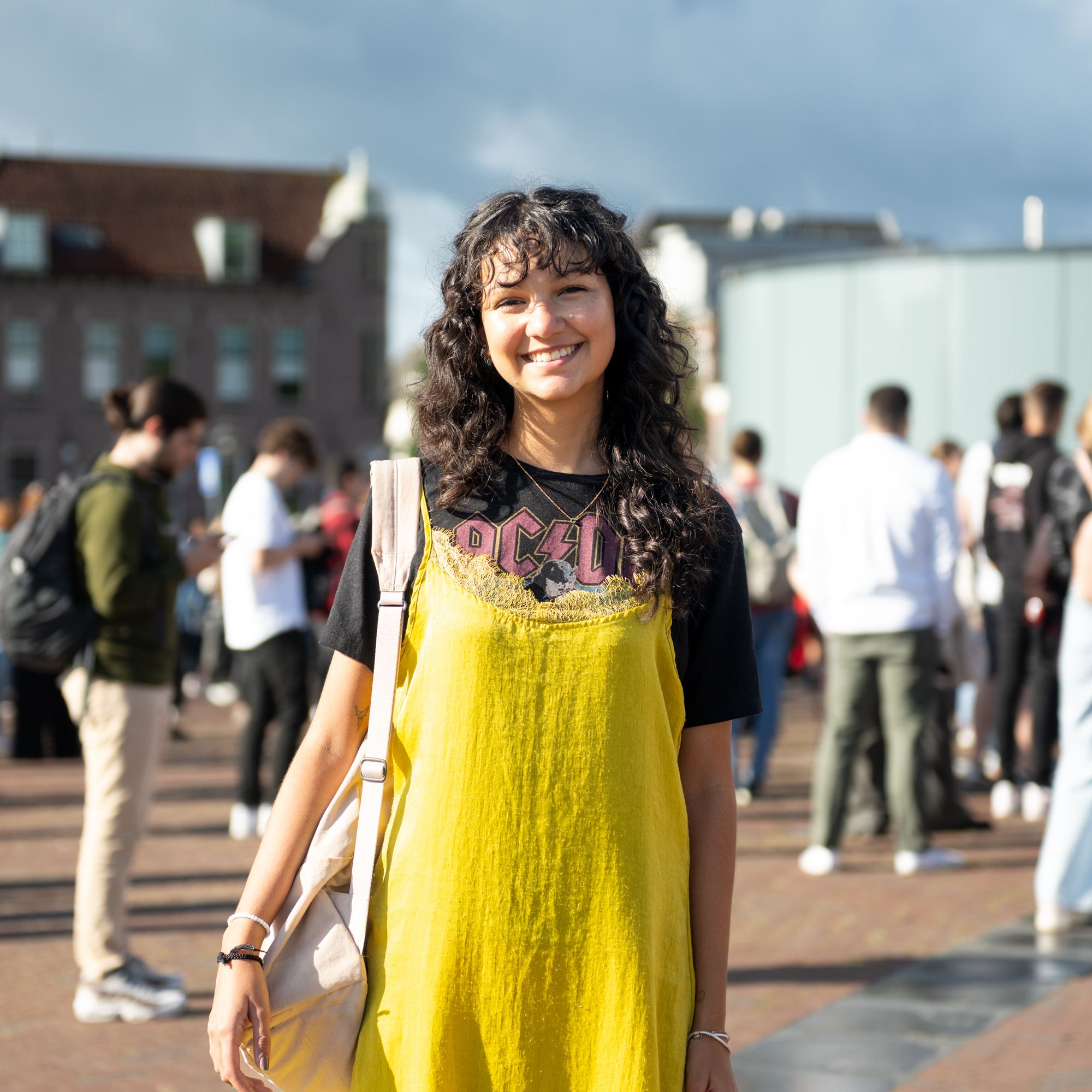 Alicia comes from Thailand and is going to study Philosophy: Global and Comparative Perspectives. The Netherlands and Leiden were an easy choice for her: 'When my school gave an information talk about the different countries where you can go to study, I fell head over heels with the Netherlands. And because I really love history and culture, Leiden University as the oldest university in the Netherlands was the logical option.'
Oliver from Finland has also come to the Netherlands to study philosophy. 'The programme appealed to me because you don't just learn about Western philosophy but also about philosophy from India, East Asia and the Arabic world. And I wanted to gain experience abroad.'
When asked what they think of the government's plans to reduce the number of English-taught programmes, the two are understanding yet disappointed. Alicia: 'I get that it's difficult to accommodate international students with the big housing shortage here. But it would be a shame if international students could no longer come because they'd really miss out. I've only been here for four weeks and am already in love with the country.' Oliver: 'I get that as a country you want to preserve your own identity and language in your education. They think the same in Finland. But it's a real shame that this means international students are less welcome.'
Warm welcome
The students are welcomed at ten in the morning by the OWL board and addressed by Rector Magnificus Hester Bijl and Mayor Henri Lenferink. Both emphasise that the students have chosen a beautiful new place to live. 'As of now you are part of our international community and can always count on it', says Bijl. 'So enjoy your time here and make lasting memories.' For his part, Lenferink encourages the students to participate in local celebrations, such as Leidens Ontzet (the Relief of Leiden). 'Any Spanish students here? Thank you for your efforts in the past! We've been left with an amazing party.'
Mentors and students meet

Rector magnificus Hester Bijl addresses the students

Mayor Henri Lenferink addresses the students

Each student is given a welcome bag with a plastic OWL bottle, city map and flyers from sponsors

A group gets to know each other
Eric from Germany is a second-year linguistics student and OWL mentor this year. 'I volunteered because I like meeting new people from different countries. International contacts really do broaden your horizons. And it's a really fun week to be part of.'
He is less enamoured by the Dutch government's plans to reduce the amount of teaching in English. 'By only teaching in Dutch, you exclude a big group and that's a pity: the good education here should be accessible to all.'
The OWL is held twice a year and is for international bachelor's and master's students. The theme of this summer edition is 'Tropical' and the programme includes a sports day, a pub crawl, a scavenger hunt and the 'Fiesta Tropicana!' end party. The winter edition starts on 29 January.
Arles from Indonesia, a Bio-Pharmaceutical Sciences graduate, is very familiar with the OWL. He took part in his first year, was a mentor in his second year and is now on the crew. 'I think the community and atmosphere at the OWL are fantastic and wanted a fun way to end student life. That's why I'm helping out again.'
His experiences as an international student in Leiden are very positive, partly because his studies allowed him to have a lot of contact with Dutch students and learn the Dutch language a bit. 'It would be good if Dutch-taught modules and language courses were made more accessible to international students. Then you'd keep the lively international student community here and wouldn't have to reduce the English-taught offering as the Dutch government wants.'
Text: Sabine Waasdorp
Photos: Patrice Borger