New student members of the Cultural Anthropology Programme Committee
The new student members of the Programme Committee (OLC) are Pablo Pandocchi, Rachel Cruickshank, Emily Berube-Palsboll and Nico Lesenfants Ramos. The board provides educational advice to the Executive Board and the Faculty Board, such as determining the Course and Examination Regulations and evaluating taught courses. Aside from the students, the Programme Committee is made up of lecturers John Boy (chair), Tim van den Meerendonk and Benjamin Fogarty. Meet the 2022-2023 student members and read why they wanted to join the OLC and what they believe is important for students.
Pablo Pandocchi, first year CADS student
'My name is Pablo, I'm from Milan and I've just started studying CADS here at Leiden University. So far I've been really enjoying not only the programme, but also the company of my peers and the guidance offered by mentors, tutors and lecturers. Since we are a relatively small programme, communication between teachers and students is made easier and more engaging: this is why I have decided to join the OLC as a representative of my fellow first-years' opinions. Not only do I want to be sure that these opinions are represented fairly, but I was also looking forward to actively contributing to eventual improvements in our programme, and being more engaged in university life in general.'
Rachel Cruickshank, second year CADS student
'I'm Rachel. I am half Malaysian, and half Scottish in my second year of CADS. Whilst I have loved my bachelor's and its courses, I genuinely feel that a lot needs to be done to ensure students' inquiries are heard and proactively changed. In the year to come, I'd like to focus on providing better communication between faculty to students, discovering ways to promote student motivation and creating an open space for my peers to speak about their challenges. Please do not hesitate to speak to me about any educational issues you are facing and I look forward to working with you!
Emily Berube-Palsboll - third year CADS student
'I am Emily, a 3rd year CADS student, a third culture kid from Canada, Denmark, Sweden and the USA. Through having an abnormal upbringing through being moved around and thrown across the Atlantic, although staying within the Global North, I believe that this experience in my formative years is what pushed me eventually to anthropology and sociology. I am passionate about our discipline, but also highly critical. I believe that through the discussion where we see students and staff as equal, we can fruitfully improve not only our study program, but reframe and even try reinvent the way we learn, teach and experience our field. If you have any feeling about the program, or just want to have a chat, feel free to email me at e.berube-palsboll@umail.leidenuniv.nl , I cannot wait to hear from you.'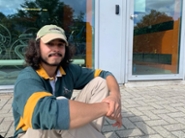 Nico Lesenfants Ramos - Master student CADS
'My name is Nico, and I participate in the Visual Ethnography specialization. I was born in Venezuela and had lived in the US for a few years before going to Maastricht University to complete a Bachelor in European Studies. My hope is that through the position at the OLC I can assist my fellow anthropologists regardless of the year they're in with communicating any concerns about the program with the appropriate people. With the times we seem to be living it in it is important to have streamlined discussions with our institute for the sake of communication and transparency about what is going on with the programme. Anthropology has a focus on providing a voice for the voiceless, and I am glad and look forward to working with all those involved in the OLC to tackle and discussions the institute needs to hear from us.'
This news article was updated on 14 November 2022. In an earlier version, we mentioned Benjamin Maldonado as the representative for the second-year students. Due to circumstances, he couldn't continue and Rachel Cruickshank replaced him.