Two new publications by Sven Lütticken
In September Lütticken released two new publications: 'Objections- Forms of Abstraction, Volume 1' and 'Art and Autonomy: A Critical Reader'.
Objections- Forms of Abstraction, Volume 1
Forms of Abstraction engages with abstrac­tion not as a formal option in art, or as an airy theoretical speculation, but as an operational force that has redesigned our world and continues to do so. The first volume, Objections, takes its cue from the Latin root of object, obiectum—which refers to something put before the subject, something thrown in one's way. This sense of the object as obstacle or obstruction, and of the artwork as an aesthetic and political objection, is explored in this volume. Objections sees artists engaging with materiality and value, with subatomic particles and radiation as well as with the objectification of human and nonhuman organisms. Along the way, we encounter theoretical objects such as the fetish, the plaster cast, the patented bacteria, the buried radioactive container, and the contemporary artwork itself. Contem­porary art is analyzed here as a set of aesthetic practices revolving around prob­lematic and questionable objects that can act as productive objections.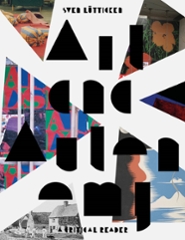 Art and Autonomy: A Critical Reader
In recent years, the theory of art's autonomy appears to have been confined to the annals of Modernism.
If contemporary history, political interventions and critiques of Eurocentrism have shown us anything, it is that art and its institutions are thoroughly socially determined, that art no longer operates in a separate or protects sphere of its own.
Researched and authored by Sven Lütticken, an art historian and critic who teaches at Vrije Universiteit Amsterdam and the Academy of Creative and Performing Arts (ACPA) at Leiden University, this ambitious study seeks to test such assumptions, arguing that autonomy, far from a romantic naiveté, retains its conceptual and political purchase.
Bringing together a wide range of thinkers – from Theodor W. Adorno to Aimé Césaire, Friedrich Schiller to Andrea Fraser, Peter Bürger to Elizabeth Povinelli – and covering a broad set of themes – from German Idealism to institutional history, media theory to political sovereignty – this critical reader foregrounds autonomy as something dynamic and shifting, something to be critically struggled and fought over lest it be relinquished.
Art and Autonomy offers an essential theoretical introduction to the field while leading the debates in new directions.