Seeing Stars: Jupiter steals the show in cloudy night skies
After months of preparation, the moment of truth had arrived: would the skies above Leiden clear for the promised glitzy planet-and-star show? The people of Leiden turned out in their hundreds to go star-hunting on 25 September. They became more aware than ever of the effects of light pollution.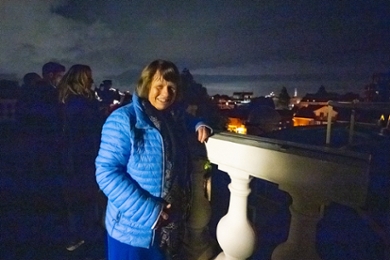 'There's Jupiter!' says astrophysicist Ewine van Dishoeck almost triumphantly from the roof of the Old Observatory. Artist Daan Roosegaarde's idea – lights out, stars on – seemed clear enough but the reality proved more complex. Large clouds threatened to throw a spanner in the works, and would enough people switch off their lights? It was almost as though Seeing Stars (a collaboration with UNESCO) were a space mission, so meticulous was the planning. Astronomer Frans Snik used astronomical models to work out in advance how much Leiden light would have to be switched off to see the celestial objects. Soon before the countdown, Roosegaarde says: 'Tonight we're removing something we've added: light. We're seeing the beauty of scarcity. Stargazing should be universal heritage!'
Energy crisis
At 22:00 hours the sensational moment has arrived: all at once the streetlights go off and then, with the odd hiccup, a good number of the inner-city residents turn off their outdoor lights too. 'We should do this every night,' many say given the energy crisis. On the streets is a feverish New Year's Eve atmosphere. Hundreds of people have turned out to witness the fireworks in the night sky. Astronomers like Ignas Snellen, who gave a micro-lecture on the hunt for extra-terrestrial life, have come along. He is amazed at the turnout.
'Stargazing should be universal heritage!'
Telescopes in the city squares
The sky isn't bursting with stars unfortunately and not everyone has turned off the lights. This sky show is a lesson in patience. Anyone who does have this and is standing in a good dark spot can see stars and the occasional planet between the clouds. Astronomers, astronomy students and keen amateurs are stationed with large telescopes at various spots. Long queues of people wait to take a look. In front of the Pieterskerk church, experts point out planets that sometimes show their faces, such as Vega, Saturn and of course Jupiter, the absolute star of the evening. 'This planet hasn't been this close to Earth for about 60 years, so it's easy to see now,' astronomy student Silvan explains.
Stargazing as entertainment
Veerle from Leiden is walking with her daughter Silke and friend Fabiënne along the Rapenburg canal. 'We live just outside the city centre and have also switched off the lights. It's not every day that you get to experience the city like this. We did almost walk into the canal just now though.' Silke: 'It's great that we just got to see Jupiter and maybe it's mainly about the idea that you may be able to see more tonight.' On the corner of Kaiserstraat, a group of students are also looking for the best stargazing spot. One of them says: 'It reminds me of the pandemic when we suddenly started walking a lot more at night and the stars were our only form of entertainment.'
Dozens of star-hunters have also gathered on the Garenmarkt square. Local resident Jeroen has brought his large telescope and lets everyone have a look through it. Through his lens, Jupiter's three moons can even be seen briefly. At the Plantsoen park, one of the darkest spots, a master's student uses a green laser light to point out some stars, and here, too, many curious people look through astronomer Victor Land's telescope.
Citizen science
Seeing Stars should also give science a helping hand. Astronomer Frans Snik and citizen science coordinator Margaret Gold hope that as many Leiden residents as possible will help map light pollution. Residents have been asked to measure light pollution with an app before and after 22:00 hours. This works best when the sky is clear. 'We'd urge everyone to keep the app on their phone for a while and take measurements in better weather,' says Snik.
Light pollution
The experiment may not have been completely successful in terms of weather and complete darkness, but perhaps it makes up for this in terms of light-pollution awareness, says Van Dishoeck. 'Light pollution affects sleep patterns and is bad for human and animal health.' And many people on the street do notice the lights that are still on. Suddenly neighbours are ringing each other's doorbells and asking: 'Can you switch off the lights?'
Text: Linda van Putten
Photos: ANP, Monique Shaw and Doortje van Helden