Best presentation award for Andreea Nadaban at European congress
A starring role for PhD candidate Andreea Nadaban during the annual meeting of the European Epidermal Barrier Research Network. With her talk about the arrangement of lipid molecules in the upper layer of our skin, she won the award for Best Oral Presentation.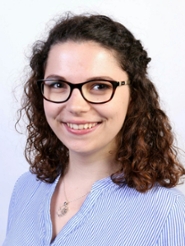 Nadaban's talk was titled: 'The molecular arrangement of stratum corneum lipids: the role of ceramide NP and ceramide NS'. Nadaban is a PhD candidate at the Division of BioTherapeutics, supervised by professors Joke Bouwstra and Robert Rissmann. Nadaban's research focuses on the role of lipids in the skin barrier function.
United to investigate the function of the skin barier
Every year the European Epidermal Barrier Research Network (E2BRN) organises its scientific meeting as a satellite symposium at the European Society for Dermatological Research (ESDR) conference. This year's meeting took place in Amsterdam, on 28 September. It reunited scientists from all across Europe interested in research on the skin barrier function.