Martina Vijver new Scientific Director of the CML institute
As of 1 September, Martina Vijver is the new Scientific Director of the Institute of Environmental Sciences. She succeeds Arnold Tukker, who led the institute since 2013 and served the maximum term of two times four years. Vijver has been appointed for a period of four years.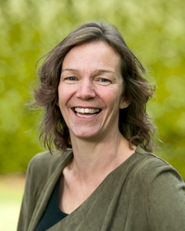 Vijver is Professor of Ecotoxicology. She studied Philosophy, Biology and Ecotoxicology in Amsterdam and came to Leiden after obtaining her PhD. She is among others the founder of the Living Lab, an outdoor laboratory at the Leiden Bio Science Park. Using this lab, she studies environmental pollution by pesticides, fertilisation and microplastics. She also founded RISE, the network for female beta scientists working at the Faculty of Science.
'Inspired scientist and involved with people'
Dean Jasper Knoester is quite pleased with the new Scientific Director: 'I am very happy with Martina's appointment. She is not only as an inspired scientist, but also very involved with people. As chairwoman of the Faculty's Permanent Committee for Academic Practice, she has shown that she has a broad perspective and that she highly values the personal development of people within our organisation.'
New phase, new director
Arnold Tukker steps down as Scientific Director in September and is very happy with the appointment of Martina. 'I think it is safe to say that Martina, with her ERC, Vidi, and many other grants, is one of the most visible scientists within the CML. When I took over in 2013 we had to grow and rejuvenate. We had to bring in new, promising staff, that would complement the excellent 'old guard' researchers we already had. This staff created the strong international position for our institute.'
Tukker looks back with satisfaction. 'This was a great success. We grew a factor 3-4 and now have a good and solid position in the Leiden and Dutch research and education landscape. But we now enter a period where the focus should be laid on internal coherence and reinforcing this growth. Martina is excellently positioned to lead such a process and I hand over the position in full confidence.'