Erasmus+ project Leiden Law School and University of Tirana successfully completed
Despite the covid-19 pandemic, the 2019-2022 Erasmus+ International Credit Mobility project between Leiden Law School and the University of Tirana was successfully finalized.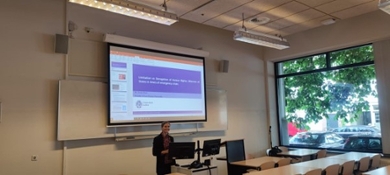 One student from the University of Tirana visited Leiden Law School during the second semester of academic year 2021-2022. In addition, Ms. Armela Maxhelaku, lecturer at the Civil Law Department and Dr. Nadia Rusi, lecturer at the Public Law Department of the Faculty of Law of University of Tirana, visited Leiden Law School in May 2022. The two incoming academic staff from Tirana had the opportunity to exchange best practices in teaching with their Leiden colleagues. Dr. Rusi gave two guest lectures in the course "Protection of Rule of Law in Europe" taught by Prof. Rick Lawson.
Finally, on 1-10 April 2022, Prof. Christa Tobler of the Europa Institute of Leiden University, visited the Faculty of Law of the University of Tirana. Prof. Tobler delivered several lectures to the students there on topics such as EU non-discrimination law, current issues in EU trade law (in particular EU association law), as well as a lecture for staff members on the charts method (see https://www.eur-charts.eu/). The project was coordinated by Dr. Darinka Piqani, member of the Europa Institute, Leiden University.