Archaeology alumna Oda Nuij wins Florschütz Thesis Award
Annually, the Dutch Palynologische Kring invites nominations for the Florschütz Award for best MSc thesis in Palynology and Palaeobotany. This year, the thesis of Archaeology alumna Oda Nuij was deemed to be the best one. Oda was surprised to hear she won, since she was not sure that the thesis would be 'palynological enough' to even be considered. 'It motivates me to continue the rich tradition of pollen analysis in Dutch archaeology.'
Reconstructing the barrow landscape
Oda Nuij's thesis was entitled 'Beyond the Heath – Reconstructing the late-prehistoric barrow landscape of Baarlo-De Bong (Dutch Limburg) using palynological modelling'. 'In my thesis,' Oda explains, 'I applied two novel methods of archaeological modelling to the vegetation reconstruction of the late-prehistoric barrow landscape Baarlo-De Bong. The research was part of an ongoing research project by the European Prehistory group.'
'For over a century, palynologists have been trying to solve a major problem: there is no linear relationship between pollen percentages in a sample and vegetation cover percentages in the landscape.' Therefore vegetation reconstructions based on pollen analysis are almost always qualitative. 'But two different methods of palynological modelling now make it possible to make quantitative vegetation reconstructions because they (almost) solved the problem. I tested the Landscape Reconstruction Algorithm (Sugita 2007) and the Multiple Scenario Approach (Bunting and Middleton 2009) and found that they can be used to make regional and local vegetation reconstructions of archaeological sites.'
Landscape beyond the heath
In the archaeological part of her thesis, Oda used these methods to reconstruct the barrow Baarlo-De Bong. 'From earlier pollen research into barrows, we already know that all barrows were built on open spaces that existed before the barrows. We also know how large those open spaces were and that most of them were covered by a heath.' What is unclear however is the landscape beyond the heath. 'With the modelling methods I looked into the forest and reconstructed the vegetation composition 3km around an early bronze age barrow, much more precise and further away from the barrow than would have been possible with traditional pollen analysis.'
'For me the prize is a recognition that palynology is just as important in archaeology as it is in biology or earth sciences. Because of the archaeological focus I wasn't sure my thesis would be "palynological enough" to even be considered for the Florschütz Award, so I was all the more surprised when I heard I had won it. It motivates me to continue the rich tradition of pollen analysis in Dutch archaeology. My thesis research has given me enough new questions to keep me occupied for the coming years alongside my job in commercial archaeology.'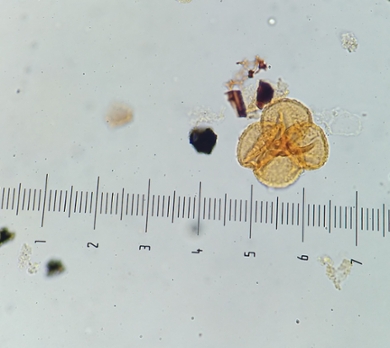 Substantial contribution
The jury was impressed by Oda's work. 'Oda's comprehensive thesis is a substantial contribution to the extensive ongoing archaeobotanical research aimed at the reconstruction of Dutch barrow landscapes. As a new and innovative aspect, her work includes a pioneering pilot study that explores the application of palynological correction models as a tool for the improved quantitative reconstruction of vegetation types from pollen data. Despite limitations of the available data sources, she convincingly argues that notably the Landscape Reconstruction Algorithm (LRA) of Shinya Sugita may hold great potential for offering credible estimates of the forest composition around the open burial mound sites.
Although the strengths and limitations of palynological modelling require further scrutiny, we are confident that Oda's thesis is introducing promising new methodology in Dutch archaeobotanical research.'
About the Florschutz Award
The award is named after one of the foremost Dutch pioneers in palynology, and will be awarded annually to the most outstanding MSc thesis and consists of a prize of €500.