A PhD, something for you? Math students doubt it too often
I'm not good enough. That thought leaves too many students doubting whether a PhD program is something for them. And isn't it lonely? On 4 February, mathematics students learned from − mainly female − experts how things really work. Including application tips.
The business world lures math students. A nice prospect with an attractive salary. The scientific world is far too competitive in their eyes. Nevertheless, PhD research seems interesting to many students. But why start if you are not going to continue in science afterwards?
What you learn is useful everywhere
Have you ever heard of transferable skills? During PhD research, you do not only learn about the one subject you are researching. You also learn how to arrange and plan your affairs well. You have to be persistent, write, present and so on. Even if you don't continue in academia after your PhD, as most PhD students do nowadays, those skills will be useful in any other field of work. Transferable skills, in other words.
That's what mathematics PhD student Mia Jukić says. She thinks it's a shame that mathematics students who are very suitable for doing doctoral research, don't choose to do so. Women in particular are underrepresented. While 28 percent of master's students are women, less than 20 percent of PhD students are.
'

Others are much smarter

'
Sanne Willems, who became an assistant professor of Applied Statistics at the social faculty after her phd in Leiden, would never have obtained her PhD if her supervisor had not asked her. 'I really enjoyed working on my master's thesis. Yet I didn't think about continuing with research. I thought: I am good at statistics, but others are much smarter.'
To make sure that from now on the right students get a PhD place, Jukić and Willems organized the event A PhD, is that for me? together with PhD student Mar Curcó Iranzo from Utrecht University. Nearly 50 mathematics students gathered in Utrecht on 4 February; in addition, several dozens of students attended online.
You are not the only one with the impostor syndrome
Nelly Litvak from the University of Twente asked the attendees about their doubts. As the organizers suspected, the idea that they are not good enough is the largest reason of doubt. Jukić: 'That's why there was a workshop on the impostor syndrome, the feeling that one day you will fall through because you are not as good as everyone thought.' Knowing that a lot of people have that immediately lessens it.
Several PhD students explained why they had chosen to do a PhD. Jukić herself initially started PhD research in Zagreb, Croatia. But it didn't go well at all. 'I kept thinking it was my fault, but the connection between me and my supervisor was not good. I wanted to start over abroad, but I didn't know how to go about it.'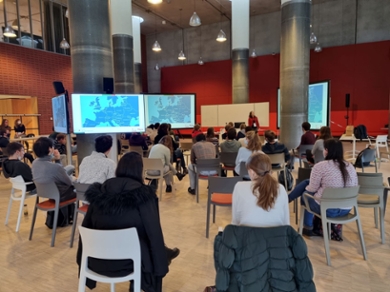 Talk to your supervisors!
Hence a workshop on do's and don'ts when applying for a PhD position in mathematics, given by Leiden mathematicians Martina Chirilus-Bruckner and David Holmes, one of the few male speakers. On how to network − talk to your supervisors! − and how to write a good application letter. Jukić: 'It is also important that the job interview is not just about the research, and that it is not just about your potential PhD supervisors liking you. It's a two-way street; you also have to find out whether you like them.
Jukić and Willems would have liked to have had this knowledge when they were faced with the choice. They want to organize an event like this every two years from now on. So every master's student in mathematics has the opportunity to make the right decision about whether or not to pursue a PhD.
Text: Rianne Lindhout