Leiden project wins international astronomy engagement award
The online summer programme Space in Your Living Room by Leiden Observatory has won the first prize 'Most Innovative Event' of the Astronomy@Home Awards from the International Astronomical Union. In July and August 2020, participants could for example talk to real astronauts and imagine life forms in other worlds. The awards honour astronomy events aimed at public engagement.
Covid-19 has been harsh on everyone all over the world. Especially at the beginning of the pandemic, when lockdown all across the globe restrained physical activities. Science engagement activities, however, kept on throughout 2020 online, entertaining and engaging people of all ages in different countries from their laptops and mobile devices.
Science as light in dark times
Space in Your Living Room was one of them — and along with nine other projects, it earned special recognition from the International Astronomical Union (IAU) at the Astronomy@Home Awards. 'A way to stimulate different groups all over the world to keep their astronomy engagement activities running in creative ways throughout these difficult pandemic times,' says Lina Canas, Director of the IAU's Office for Astronomy Outreach based in Japan. Astronomy@Home awarded two winners for each of its five categories, chosen among 400 events across 31 countries worldwide.
Meeting astronauts and playing games
The Space in Your Living Room project took place from July to August 2020 and aimed at fostering interaction among children and their families with space professionals, while highlighting the role of women and minorities in space sciences.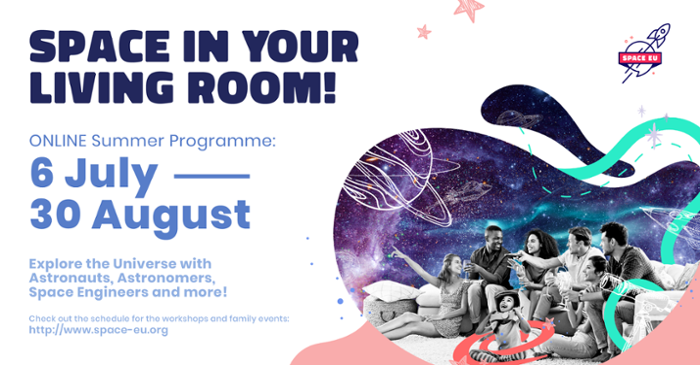 Participants could join hands-on workshops hosted on spaceEU social media channels, as well as informal conversations between astronauts and artists delving into the connections of arts and space exploration. Also part of the programme were games and online workshops where young people could meet space professionals.
How to organise a truly inclusive programme
In a special contest, children could come up with creative questions to ask
Muhammed Ahmed Fares, Dirk Frimout, and Claudie Haigneré. The winner received a signed telescope, as a courtesy of Stars Shine For Everyone (SSVI). 'To create a truly inclusive programme, diversity is key: diversity in types of activities, in speakers, and languages. That's why it was important to organise events in Arabic, Dutch, English and French and to engage our European partners as much as possible,' says Suzana Filipecki Martins, spaceEU project manager.
'By rewarding initiatives such as Space in our Living Room, the IAU wished to highlight an initiative that for its diverse programme could engage different audiences. Space in our Living Room is an inspirational example of how we could keep connected through science,' says Lina Canas.
About Space in Your Living Room
Initiated by the Astronomy and Society Group at Leiden Observatory, Space in Your Living Room was a programme within spaceEU, a space education and engagement project that ran from December 2018 to November 2020, funded by the European Commission's Horizon 2020 Programme and coordinated by Pedro Russo (Leiden Observatory / Dep. Science Communication and Society). The project was implemented with support from Suzana Filipecki, Jorge Rivero, Mahbobah Ahmadi and Michelle Willebrands.