EL CID 2021: a great start in a friendly city
'Leiden is small, friendly and welcoming,' says new first-year student Ayla Russel. Strong wind and heavy showers were forecast for the first in-person day of the EL CID on 16 August, which could easily have spoiled this impression. But fortunately the showers – apart from one – fell somewhere else, and there was even some sunshine.
Around two thousand students of Leiden University and the University of Applied Sciences took part in the various elements of the in-person EL CID, and for each of these the students had to show that they had been vaccinated or had tested negative. These checks were taken seriously but ran smoothly, without people having to queue. The EL CID even attracted the national press, by opening a walk-through testing centre specially for EL CID participants. They can be tested every day in the former V&D/Hudson building.
Drinking beer
One of the activities organised for the first-years was a lecture by Hanno Pijl, a professor at the LUMC. On a breezy Pieterskerk Square, he answered a question that was undoubtedly in the thoughts of many students: how unhealthy is beer? Pijl knows everything about a healthy lifestyle, and we are all familiar with the principles by now: plenty of fresh fruit and vegetables, as few industrially made products as possible and regular exercise.
But we should never forget, Pijl pointed out, that you can have too much of a good thing. And this was actually the answer to the question: your body can easily cope with one alcoholic drink a day, and the occasional portion of french fries won't do any harm either. As long as beer, fries and other fast food don't become your lifestyle. It was a sobering message for the students, and probably quite distressing for the proprietors of the beer stall and Karels Biofriet (organic fries), who had installed themselves on the Square.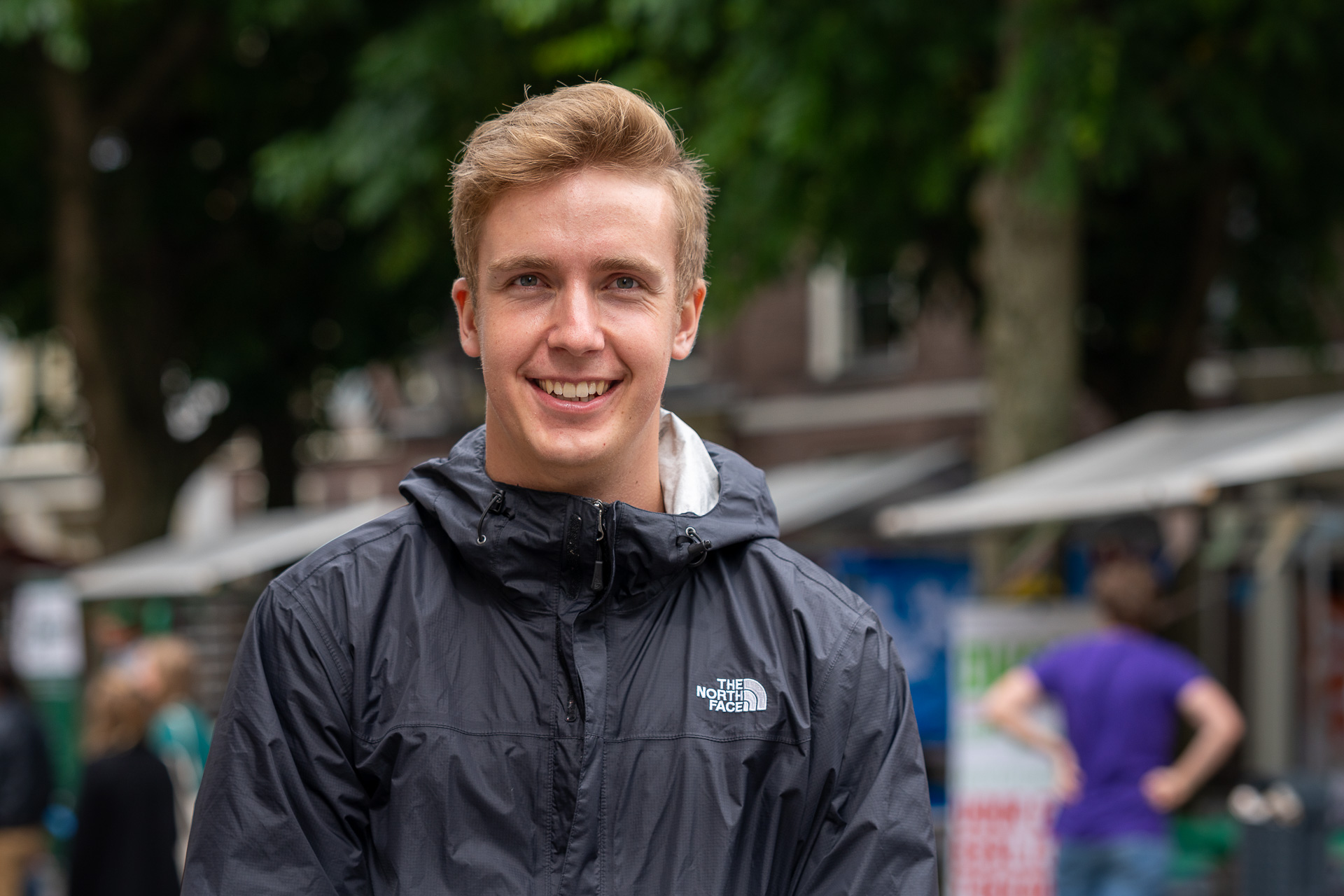 Leiden was the automatic choice
Koen de Vecht comes from Beilen in Drenthe, and is going to do his degree in Security Studies. 'I thought it seemed the most interesting subject I'd come across.' Leiden was the automatic choice for him, because it's the only university that offers this programme. Leiden University's Campus The Hague is actually where the programme is based, but Koen wants to live in Leiden. He hasn't found a room yet. 'I was quite late in starting to look. I was actually selected for one house, but I wasn't so keen on it.' Does he want to join a student association? 'Yes, definitely.' He's still hesitating between Quintus ('Not as "sophisticated" as Minerva') and Njord, the rowing club. Koen is looking for an association with a friendly atmosphere and that's why he thinks the combination with a sport seems a good idea. This is an argument in favour of Njord.
Rutte, Putin and home care
The EL CID Information Market is a varied assortment of 'vendors': from political parties like D66 and the Socialist Party to voluntary organisations and student associations. A particularly eye-catching stand is that of Cuculum, the student drama group. It is completely purple, including the suits worn by the students in the stand. The members of the United Nations Student Association (SIB), impeccably dressed in suit and tie, as always, have placed their association tie around the neck – or is it the throat? – of Mark Rutte and Vladimir Putin. And they want to make sure that Putin's tie is especially straight for the photograph.
Emile Thuiszorg is looking for students who want to work part-time (for payment) in home care. They are asked to perform light duties, such as helping clients with getting dressed and personal hygiene. Are students interested in this? 'Absolutely,' answers the young woman in the stand. 'It's a great part-time job. We already have several student teams, each with fifteen members. The work is very rewarding.'
Eating pasta in the Kamerlingh Onnes building
Dinner is served in the Kamerlingh Onnes building at around 18.00. The new students eat pasta in cardboard bowls and the cheese is placed separately on the tables. Here we meet Ayla Russel, who will be starting her Law degree in Leiden in September.
'Ik zag helemaal online studeren niet zitten'
'I didn't like the idea of studying completely online'
'Leiden is small, friendly and welcoming,' says Ayla Russel. She's coming to the city to study Law, also because the University has an excellent reputation for teaching this subject. 'I'm mainly interested in studies relating to society,' she explains. Ayla knows Leiden well because she grew up in Oegstgeest. This means she can proceed step-by-step with building up her new life: she won't move into a student room just yet. Like several of her friends, Ayla has just taken a gap year. 'I wasn't really sure which direction I wanted to take in my studies and also I didn't like the idea of only studying online, without any contact with other students and lecturers. I spent my time working to earn some money and meeting up with my friends a lot.'
And finally, two of the numerous mentors who are tirelessly helping their group of new students again this year and are always incredibly energetic.
'What I like best is how the El CID-ers react to student associations'
The mentors Mikki Vrijenhoef and Nova Verkerk are friends and have something remarkable in common. They're both studying History and are also going to study a language in the upcoming academic year. This actually means they're first-year students too, in their view. Mikki is going to add French Language and Culture to her History studies, while Nova will also be studying Classics (Greek and Latin Language and Culture). This is Mikki's second year as a mentor and Nova's third. Nova openly admits that one reason for adding this second subject is to give her some extra time as a student, to catch up on the time partly lost due to coronavirus.
EL CID is longer this year, from 12 to 21 August. Both of the mentors have also led their group in the online activities for new students, such as sports, the escape room and games of all kinds. Ayla Russel (see above on this page) praises the online part of the EL CID. 'Very professionally organised, and it's certainly added a lot to the introduction for me.'
Mikki appreciates the fact that she still has friends she's met at the EL CID. Nova also thinks it's important to give students a good start in Leiden, despite coronavirus. What she likes best is the route through the student association stands, especially the reactions of the new first-years. 'They have no idea what's going on at first. It's something really different for them, seeing student associations like this.'
Text: Corine Hendriks
Photography: Monique Shaw