What you see is not what you get: things that are not visible are worth studying
Things that are not visible are also important and worth studying, according to cultural anthropologist Sabine Luning, cultural historian Paul van de Laar and professor in History of Architecture and Urban Planning Carola Hein. The three are respectively members of the steering committee and leaders of the interdisciplinary research group PortCityFutures (PCF), where they conduct research regarding the development of port cities and 'regions' in the past, present and future.
To share their research knowledge on spatial, social and cultural impact and the conflicts between stakeholders with a wider audience, they created a series of videos in different districts in Rotterdam, where the changing relationships between port and city are very visible.
Interdisciplinary collaboration
Why do a historian, a planner and an anthropologist work together? It is perhaps not self-evident, but in the opinion of the PortCityFutures group very logical if you are concerned with the future of the port-city region. 'People still look at it with some scepticism', says city historian Paul van de Laar, 'but it works very well in the discussion we have within the academic world. It is fascinating, interesting and enriching.' PortCityFutures is a research group of academics connected to Leiden University, Delft University and Erasmus University. They combine knowledge from various disciplines and reflect on the future of the port city region. Sabine Luning: 'Questions like: Where will the future be made and for whom? Who is excluded? Who experiences the effects of a decision but does not participate in the decision-making? are very important to us within PortCityFutures. It is a way of portraying the future. The consequences of interventions and policy decisions are often visualised. That is why visualisation itself also plays an important role in our knowledge production. The realisation of the short films in Rotterdam is a good example of such visualisations.'
Videos to illustrate social impact of research
The series "PortCityFutures: Rotterdam" consists of five videos of about five minutes each in which the viewer is brought to locations that offer an insight into the research themes that Hein, Van de Laar and Luning are working on. At Koninginnehoofd, for instance, they discuss transitions in the port city of Rotterdam at the end of the nineteenth century; at Waalhaven, they focus on Rotterdam's development as an oil port; and at Pernis, they discuss the future of the industrial area when oil will be less dominant. The episode at Deliplein shows how gentrification has changed the look of Katendrecht as a typical Rotterdam harbour and entertainment district. The RDM, the site of what was formerly one of Rotterdam's largest shipyards, has now been redeveloped into a location for the creative industry. The films are not scripted but were created on the spot as filmed dialogues that were edited afterwards. Van de Laar: 'The films were made to show the added value of collaboration. It is a way to present the social impact of research to a non-academic audience.'
Using visuals to tell a story
As an architect, Hein knows the power of images like no other. She has noticed a large gap between what is depicted and reality. 'It is an important question for us: how are visuals being used to tell a story or to convince people? I have researched port cities and oil. Where is the oil located within the port, but also how is it portrayed? In advertisements of oil companies, you see images of green landscapes with tulips and windmills. But the oil itself is not shown, nor is the noise or the pollution. In architecture and urban planning, beautiful drawings are used to sketch an image, but this is by no means always visible in the real world. A drawing is a story in itself that can be researched.'
Anthropologists, visualisation and future-making
It is also fascinating for anthropologists to look at the major role that visual culture plays in sketching the future. Luning: 'It is very interesting to look at the professionals and political agents with power and influence, and to link this to research into people who are affected by planning. We investigate how planners work, how they work at the behest of policy-makers and whether or not citizens are involved in discussions. And weask how images circulate in those areas of decision-making.' Hein also sees added value in working with anthropologists. 'The question is for whom you are designing. Architects show beautiful images of what the port will look like in the future. If you also work with anthropologists, you get a much broader picture of your audience. That goes beyond the client. Architects need to have that level of dialogue during the design process.' Van de Laar sums it up: 'Imagery has an appeal and compelling power that can bring people together, which is what makes this interdisciplinary research group so interesting. What you see is not what you get.'
MOOC (Re)Imagining Port Cities: Understanding Space, Society and Culture?

Would you like to learn more about visualisation, port city areas and future scenarios? On 26 May, the free MOOC (Re)Imagining Port Cities: Understanding Space, Society and Culture? will start. More information about this five-week course and how to register can be found at https://www.edx.org/course/port-cities-and-urban-deltas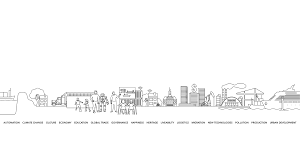 PortCityFutures investigates the socio-spatial conditions, uses and arrangements of port-city regions, and in particular areas where port and city activities take place simultaneously and sometimes collide.