Questions for Ernst Dijxhoorn about the Minor Global Affairs
You're about to start your minor at Leiden University. Make sure you are well prepared and get your studies off to a good start.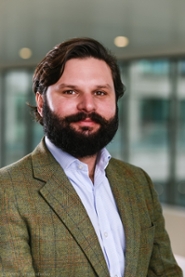 We asked Ernst Dijxhoorn, Study Coordinator of the minor Global Affairs, several questions about the minor Global Affairs; 'This minor has the most experienced group of professors you will ever encounter in one programme, and their willingness to share their knowledge and insights on the theory and practice of global affairs makes this programme truly unique.'
Ernst Dijxhoorn will also give a presentation about the minor Global Affairs at the minor market on Friday 30 April.
What is the minor Global Affairs about?
The minor Global Affairs is about Global Affairs. The programme is mainly built on two pillars of International Relations: International Security and International Political Economy, and in the courses the most important global trends and challenges are discussed and geo-political shifts explored. This programme is unique in that it is taught by a combination of academics and (former) practitioners in the field of international relations.
What kind of student are you looking for?
We welcome students from any background, as long as they have an interest in geopolitics and diplomacy. Students don't need any specific educational background, but they can only be successful in this minor if they read a newspaper (or a couple of newspapers) and know what is going on in the world. So students need to have general knowledge and some analytical skills will come in handy.
What kind of interest does a student needs to have?
We are looking for students that are interested in international relations in the broadest sense, whether that is in power instruments, the use of the military in international relations or in geoeconomics, the financial/economic domain. Students should have an interest in how power is shifting in the world and the consequences of those geo-political shifts on for instance institutions such as the EU, UN and NATO, the relationships with and between Russia, China and the US, and on international trade. But also in what the consequences are for global affairs of the current Corona Crisis for instance.
What skills do you learn during this minor? And how can you use these skills in daily life?
The minor aims to offer students a balanced package in which theory and practice are combined. We will pay attention to global trends and challenges such as: the shift of political, financial and economic power to the East and its consequences for existing international institutions; climate change; pandemics; the new role of media in global events; scarcity of energy resources and the commodity markets; inter-state and intra-state conflict. Students will learn how to write a policy brief and a well-structured, clearly argued essay. Moreover we will use simulations to practise negotiation skills. These are fields of knowledge and skills that will come in handy in any discussion, pub quiz and career. Whether later in life you will become an engineer dealing with clients in the Middle-East or an economist at a multinational, or a marketer, psychologist, lawyer, or any other profession, knowledge and understanding of how global affairs are conducted will be useful.
More information
You can find more information about this minor on the e-studyguide.
If you have any questions, please send an e-mail to dr. mr. Ernst Dijxhoorn at globalaffairs@fgga.leidenuniv.nl.
What is a minor?
A minor is a structured package of topics with which you can broaden your knowledge and competencies or focus more sharply on a specific area. Most minors last a semester and will earn a student 30 credits, which is often equal to the total elective quota. However, given that for some programmes this total quota is only 15 credits, every minor can be 'half followed'. In terms of their degree of difficulty, minors are mainly suitable for third-year bachelor's students.
There are limited places available on minors and these are allocated on a first-come, first-served basis. So make sure to apply on time. Register via uSis from 3 May 13:00 hrs. up to and including 15 July 2021.