First NWO Communication Award for Leiden Wall Formula project
Sense Jan van der Molen and Ivo van Vulpen have been awarded the first ENW Communication Award by funding agency NWO for their Wall Formula project. The award aims to encourage scientists to communicate about their research. It consists of a sculpture and a 10 thousand euro sum for science communication.
'We're very happy with this', says physicist Ivo van Vulpen, the originator of the wall formula concept. Eight Leiden inner city walls now sport famous physics equations with a Leiden connection, accompagnied by a stylised illustration and a short text. 'Our idea and hope is to touch passers by with curiosity and wonder', says Van Vulpen.
The Communication Award of the NWO domain Exacte en Natuurwetenschappen (ENW, exact and natural sciences) is awarded for the first time, to scientists who have made efforts to translate scientific research to a wider audience. From the jury report: 'They took an existing concept, the Leiden wall poems, and turned it into a new means of communication for science. The committee lauds the originality and innovation and considers the execution elegant. It considers the cooperation with artists as very fruitful.'
The award, a sum of 10 thousand euros to be spent on the project, was announced on 1 December. It will be awarded during the yearly Veldhoven physics conference in January 2021. The IAU100 project, initiated by the Leiden Astronomy & Society group, also won a Communication Award.
TEGEN-BEELD
Yvon ne van Delft, council member for Culture of Leiden municipality says: 'This NWO Public award for the wall formulas is very fitting. My congratulations to Ivo van Vulpen and Sense Jan van der Molen with this beautiful award. It is also a nice encouragement for the TEGEN-BEELD foundation, which creates the wall poems in Leiden. The wall poems bring science closer to the citizens and visitors of our city. They look gorgeous, and always catch my attention when I walk or cycle by. I really think they are a major gain for our city of Knowledge and Culture!
The wall formula project started in 2014 after a remark by Van Vulpen, a particle physicist at the Nikhef institute and Amsterdam University. Van Vulpen lives in Leiden, and is well acquainted with the wall poems by TEGEN-BEELD. Artists Ben Walenkamp and Jan Willem Bruins painted more than a hundred poems on empty Leiden city walls, in many languages varying from English and French to Sanskrit, Russian and Hindi.
'I really thought they are beautiful, even the ones in languages I don't understand', says Van Vulpen, 'it reminded me of physics formulas. They, too, are condensed, pithy formulations of the essence, incomprehensible for outsiders. Nevertheless, you can find them beautiful and intriguing.'
Fantastic plan
'Ivo mentioned the idea at drinks after a Studium Generale lecture', says Sense Jan van der Molen, a physicist at Leiden University. 'The next day, he called me and said: I really want to do this, are you in? I thought it was a fantastic plan, so we threw ourselves into it.' After some conversations, Ben Walenkamp and Jan Willem Bruins of TEGEN-BEELD were enthused and the city and university of Leiden supported the project financially. Van der Molen: 'Initially, we spent some time finetuning our approach. But by doing this together, inspiring each other, we developed the idea into somethin concrete, while keeping our initial enthusiasm.'
The first wall formula was Einsteins field equation, which describes the curvature of spacetime in General Relativity theory. This formula appeared in 2015 on the front wall of the Boerhaave museum of science history, exactly one century after the theory itself was published.
Initially, there was no image. 'The idea was that the wall poems didn't need a translation either', says Van der Molen. However, that turned out to be a misunderstanding. 'Most wall poems did have a plaquette showing a translation, but these often disappeared.'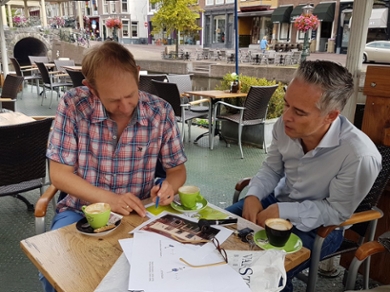 Formulas
'After the first one, it became easier to persuade people to have a formula on their wall', Van der Molen says. After Einstein came the Lorentz forze on the De Hooykist restaurant on the Hooigracht, followed by Snellius' refraction law in the Sint Jorissteeg in 2016. The next year, three formulas appeared: the Oort contants by Jan Oort about the movement of stars within the galaxy, the electron spin formula by Uhlenbeck and Goudsmit on 't Gerecht, and the famous Lorentz contractions from Einsteins Special Relativity on a wall along the Rijnzicht-bridge, where trains pass regularly.
'This location is very apt', says Van der Molen, 'since Einstein often explained his theory using trains moving at different speeds. It's beautiful when the location, visualisation and equation match.' The design is made by the physicists cooperation with the TEGEN-BEELD artists. 'It is really a creative process', says Van der Molen.
In 2019, Christiaan Huygens' pendula formula appeared on a high building, formerly in use as a fire brigade tower on the Plaatsteeg. This year, Bruins painted Johan Diderik van der Waals' equation of state, about gases and liquids, on a wall on the Fruinlaan, in view of the Gymnasium. Painting a formula takes painter and typographist about a week.
European City of Science
The wall formulas have attracted plenty of publicity, from the Leidsch Dagblad and local broadcasters to the Spanish El País. They have been gathered on the trilingual muurformules.nl website, which is also the basis of an audio tour on the izi-Travel app.
By now, the wall formulas have transcencede Leiden. Utrecht physicists have created two wall formulas in the city of Utrecht, and there are plans for similar projects in Groningen, Prague and Vienna.
In Leiden, there are several more wall formulas to appear, but Van Vulpen and Van der Molen prefer to keep mum about them. Van Vulpen: 'We hope to close the project with one final formula in 2022, when Leiden is the European City of Science.'