Cisca Hoogendijk receives Festschrift
On 8 December, on the occasion of her 65th birthday, Cisca Hoogendijk was surprised with a festive bundle of 56 text editions by friends and colleagues, edited by her former students Dr Joanne Vera Stolk and Guus A.J.C. van Loon, MA.
Summary:
'This volume is a Festschrift in honour of Francisca Hoogendijk, containing contributions by forty friends, colleagues and former students. It includes fifty-six editions and re-editions of (Abnormal) Hieratic, Demotic, Greek, Latin and Coptic texts, most of them from Ancient Egypt. The texts are as diverse as the jubilee's own range of interests and her extensive papyrological network, including both literary and documentary texts, written on papyri and potsherds, dating from the twelfth century BCE to the eighth century CE. All texts are published with transcriptions, translations, commentary and photographs.'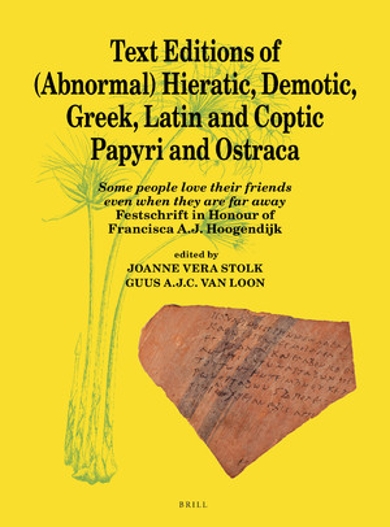 Joanne Vera Stolk, Guus A.J.C. van Loon (eds). 'Some people love their friends even when they are far away: Festschrift in Honour of Francisca A.J. Hoogendijk'. Editions of (Abnormal) Hieratic, Demotic, Greek, Latin and Coptic Papyri and Ostraca. Papyrologica Lugduno-Batava 37. Brill: Leiden/Boston, 2020.
For more information, please visit the website of Brill Publishers.