Organising online events: 'No dress rehearsal, but straight to the premiere!'
2020 is a year in which we need to reinvent ourselves, including within our faculty's marketing department. For years, colleagues have been organising introduction activities such as the Bachelor's Open Days, Master's Open Days and Online Experiences. From March onwards, everything had to change.
Organisational puzzle
All events this year are held fully online. So instead of in the Pieterskerk and in Lipsius, the Bachelor's Open Days were held online, and the usual Master's Open Days became an online Master's Week. 'It was like solving a huge organisational puzzle, in which a lot was only known at the last minute. Leiden University would normally spend maybe two years on a project like this, now we started in mid-June', says Ayelet Mokasay from Bachelor Marketing.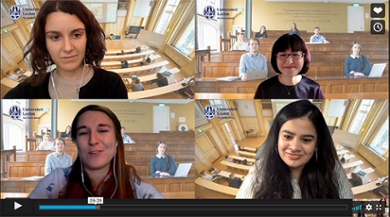 Wide range of online information
An online platform has been purchased for the entire university, in which stands were set up for all study programmes. For the Faculty of Humanities, there were more than fifty stands, both for bachelor's and master's programmes. At these stands, students could watch study programme videos, download a brochure or chat with the coordinator of studies or students.
Over the course of one week, 114 live presentations took place, most of them live from studios, specially set up in the Pieter de la Court building, and some from home. Sometimes there were up to eight live presentations happening at the same time. Journalism and New Media master's student Jannet Harthoorn got to be a part of this: 'Together with lecturer Jaap de Jong, I was allowed to give an online presentation. In a real studio, surrounded by cameras and technology: it was a really fun experience!
Strong involvement from the faculty
An incredible amount of lecturers, staff and students have worked on these online information sessions. In September and October, the university's Strategic Communication and Marketing directorate set up special studios in the Lipsius building, in which dozens of study programme videos for the master's programmes were recorded. Femke Stokkel from Master Marketing scheduled all of the recordings with the lecturers, and is satisfied with the results: 'These videos offer prospective students a nice first introduction to a study programme.'
Matthew Frear from Russian and Eurasian Studies was one of the lecturers who recorded such a video. Although the presenting went well, Matthew missed the audience: 'During an online presentation you don't get feedback from students the way you would in a lecture hall. But he was also satisfied: 'If you had asked me to do this a year ago I would have struggled, by now I have months of experience with online teaching and it is going better and better.'
Biggest online event ever
Altogether, between 30 October and 6 November, the largest event ever organised by Leiden University took place. In a survey, the prospective students gave the Bachelor's Online Open Days a rating of a proper eight, data for the master's programmes are still to come. According to Femke, it makes sense that some things went wrong during the online events, 'you have to accept this and make the best of it. Although we were able to make a lot of preparations, we kind of skipped the dress rehearsal and went straight to the premiere.' Ayelet: 'It is so cool to see what we've achieved with so many people, in such a short amount of time.' Femke: 'I now see more cooperation between different faculties, that's very nice and really something new.'