How to create a successful transnational learning environment
With more than 20,000 Omani students registered in British programmes in 2017/2018, the number of transnational students is quite substantial in Oman. The transnational learning environment is new to practically all the teaching staff as well as the students. Antonia Lamers, PhD at ICLON, researched how to create a TNE teaching and learning environment that is in line with the expectations of the British programmes. Defence on 24 November.
In Oman, non-Anglophone expatriate academics form a considerable majority of the teaching staff in transnational education (TNE), while they rarely have prior experience in a Western university, neither as students nor as teaching staff. This means that for practically all of them the environment in which they teach is academically, culturally and sometimes also linguistically new to them. The same holds for the students, as the vast majority come from the local government schools where Arabic is the medium of instruction in both primary and secondary school, and the British academic system is new to them.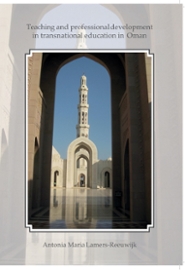 Considering this complexity of the TNE teaching and learning environment, the aims of Lamers' dissertation Teaching and professional development in transnational education in Oman are twofold: first, how to create a TNE teaching and learning environment that is in line with the expectations of the British programmes so that students can succeed academically. Secondly, how to support academics who teach on these programmes in their professional practice towards creating such an environment. The study took a holistic approach by investigating this environment from the points of view of an observer, the teachers and the students, and considered how these different perspectives informed a long-term continuing professional development (CPD) programme.
The most significant findings were that both the observer and the students noted an inconsistency among teachers in their approach, with most of them focusing on information transmission. In this TNE environment, the most challenging aspects for the teachers were student related issues and maintaining programme quality, and for students academic writing and developing critical thinking skills.
Face to face interaction was important to both teachers and students. Teachers found individual feedback on their teaching practice, together with informal discussions with colleagues, more effective than other forms of CPD. Their teaching practice improved for the most part over a 3-year period in which they engaged in the CPD programme that focused on the teaching and learning environment. Students found class discussions and their informal study groups effective in dealing with these challenges.
Provider universities need to take their responsibility for the quality of learning opportunities in TNE as seriously as maintaining academic standards. There is a clear need for an in-house CPD programme focusing on the teaching and learning environment. When there is a pedagogical-didactic disconnect between the programmes and students taught, the academic success of the TNE student in a British programme will be at risk.
What is transnational education?

Transnational education (TNE) is education delivered in a country other than the country in which the awarding institution is based, eg students based in Oman studying for a degree from a university in the United Kingdom.