Sports Centre celebrates 50 years
Online competitions, online sports, dietary advice for staff and students and 'What do they eat for lunch?' The first 'volunteer' is Vice-Rector Hester Bijl. What does her lunch usually consist of? The University Sports Centre is celebrating its fifty-year anniversary with a whole - corona-proof - programme of fun things to do.
A healthy mind in a healthy body. That was the philosophy behind the building of the University Sports Centre in the late sixties. The idea of a healthy mind and a healthy body being mutually dependent comes from Roman times. Mens sana in corpore sano. The satirical poet Juvenal, writing in Satire X in around 120, put it slightly differently; he said that if one wishes to pray for anything at all, it should be for a healthy mind and a healthy body. He was exhorting the young men, young soldiers, who were going to war to do so with 'a brave heart that has no fear of death'.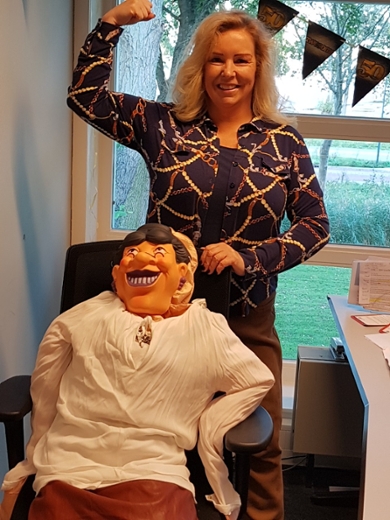 We asked Esther Deutekom, Director of the University Sports Centre, whether the Roman insight still holds true today.
'It's truer now than ever. Sports are one of the fundamental facilities a university has to offer. The trend is to live more healthily and to challenge yourself. We see that because our member numbers are always increasing, and our students and staff are doing more sports. Yoga and mindfulness are really popular today, and they're growing fast. Most people come here to do some form of sport; the emphasis is shifting from cardio machines to strength exercises, old-style with dumbells and barbells. And things have moved on in that area, too: there are now a lot of women who do weights.'
How are you going to celebrate the USC's fiftieth birthday?
'There's plenty to choose from. There are online competitions; we're organising a photo competition and we're rewarding people who stop smoking: this is Stoptober month, after all. You can also watch all the videos of the online lessons in the Healthy University Week again. We're also focusing on nutrition because health and exercise are two sides of the same coin. We're asking a number of members of staff in Leiden and The Hague what they eat for lunch, starting with Vice-Rector Hester Bijl on 26 October. She will be followed by a student who does a top-level sport, a member of staff in The Hague, an international student and a student board member. A nutritional expert will give an opinion on the lunch and will offer advice. Students and staff can also put their questions to a dietary adviser. And, last but not least, we'll be giving tips and sharing recipes on the theme of Diet and Family.'
About the USC
The University Sports Centre normally offers around 200 sports hours a week, which 10,000 people make use of. There are 35 permanent members of staff (20 FTE), 70 freelancers and 40 temporary workers. The Sports Centre has three locations. As well as the location on the Bio Science Park, there are also two fitness centres: Plex-fit in the Plexus student centre in Leiden and The Buzz in the Beehive student centre in The Hague. In non-corona times, the USC is also the place where large groups of students come to take their exams. Every year, around 140,000 students sit exams there.
How has the Sports Centre developed over time?
'As far as team sports are concerned, not a lot has changed since 1970. Volleyball, basketball, badminton, football, tennis, hockey and rugby are still very popular, though we do have some new sports, like beach volleyball and ultimate frisbee. You can choose from around 70 different sports at the USC, and new ones are always coming along: jumping on mini-trampolines is popular right now. It's really good for your overall fitness and it's fun to watch. And this year you can also join a ''twerk' lesson.'
'The social function of sports has also changed. Four years ago, we opened the Sports Centre on Friday evenings just for international students. It's harder for them to make contact with other students, even among their own group, and a lot of Dutch students are travelling on Friday evenings to spend the weekend with their parents. International students come on Friday evening for a game of basketball, playing King of the Court, and the pingpong tables are also popular. After that they get together to watch sports competitions on the big screen. On Sunday we offer them indoor football: Sunday International'.
'When I started here, in 2014, the place was filled with gym apparatus. We sold it all, because gymnastics went out of fashion here a long time ago. I recall that the first director of the USC was Nuis. His grandson is skater Kjeld Nuis. And the buildig was designed by Rietveld.'
The Board of the University has decided on a new building for the Sports Centre. How are those plans going?
'The building work will start this month in the entrance area, but as a result of the covid crisis we don't expect it to be finished until 2023. We're working hard to develop a modern sports centre, in harmony with the surrounding environment and designed to take in all the latest trends. There will be hyper-modern fitness facilities, and the halls will be more attractive and inviting. And - another new acquisition - there'll also be a climbing wall.
'The building was originally designed to accommodate large groups for exams, and luckily that will stay the same. The invigilators and the people who set out the tables and remove them after the exams are often ex-employees of the University, so they're part of the USC family. Every year, foreman Leo makes a batch of those wonderful Dutch ''oliebollen'' for his team.'
What's it like for the USC in corona times?
We have to observe the corona measures, so teams aren't allowed to train at the moment, neither indoors nor outdoors. Fewer people are allowed in the halls and all the doors and windows are kept open. The biggest difference is that previously people could just come in to do sports without registering in advance, but now everyone has to make a reservation via our online reservation system. We're very careful about keeping to the rules and we have good contacts with the local health authority. The fitness tent that we had in the summer has now been taken down because of the construction work on the entrance area.'
'I'm looking forward both to the end of the corona era and to the new Sports Centre.'
Text: Corine Hendriks
Photo of woman with barbells: Sven Mieke
Mail the editors