Students LL.M. Advanced Studies in International Children's Rights received their master degrees
On Monday 24 August 2020 a small, intimate gathering of graduating students and staff took place in the Leiden University Academy Building's Groot Auditorium. The other students participated online.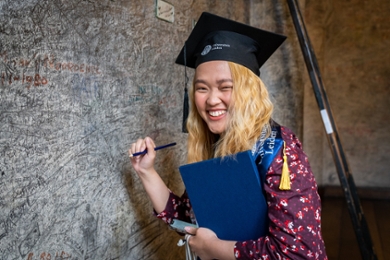 During this hybrid graduation ceremony, which was also live streamed, the thesis supervisors personally addressed each of the students and presented them with their well-deserved LL.M. diploma.
All students were praised for their hard work during the year, the inspiration they brought to the program and their passion for children's rights. In keeping with tradition at Leiden University, students were invited to put their signatures on the walls of the so-called 'Sweat Room' (Zweetkamertje in Dutch) in the Academy Building.

After the ceremony the glasses were raised in the garden of Koetshuis de Burcht in the beautiful city centre of Leiden.