Noah finalist UN Youth Delegate: 'I'll fight for our cause'
Leiden student Noah Madretsma has reached the final of the election for the UN Youth Delegate for Human Rights and Security. Who is he, and why does he want to become a UN Youth Delegate? Let's get acquainted.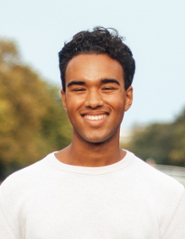 Who are you?
'I'm Noah Madretsma, 19 years old and a first-year law student.'
Why is it important to have a UN Youth Delegate for Human Rights and Security?
'Human rights have a direct impact on our lives. Here in the Netherlands, I sometimes think we don't realise that the opportunities and the freedoms we have are not self-evident. The rights we currently enjoy are the result of thousands of people who fought for their fellow human beings. For example, Aletta Jacobs, Anton de Kom and our 'own' Leiden law professor Rudolph Cleveringa. It's important that we retain these privileges and extend them where necessary. We're all proud of our democracy, but is this democracy a true democracy if young people are not allowed to participate in decisions? There are more than 2.5 million young people living in the Netherlands, but there's only 1 youth in the House of Representatives. I believe that young people in the Netherlands deserve a voice. This is a cause that I want to contribute to and the United Nations seems like a good place to start!'
From 16 to 23 October 2020 all young people in the Netherlands (up to 29 years of age) can cast their vote.  
Vote for Noah!
What will you do if you are elected?
'In my role as Youth Delegate I'll travel round the country and hear the opinions of youngsters. What's important for them and what problems need to be addressed? This is about human rights in the broadest sense. What can we, young people in the Netherlands, do to help the Uyghurs for example? But also: is it fair that we end up with a debt of thousands of euros because we want to get a degree? I'll talk to policymakers at the highest level. My predecessors met with ministers and even the prime minister made time to meet with youth delegates. Apart from having an impact in your home country, it is of course important to be heard abroad as well. Each year a UN youth delegate addresses the UN in New York. In this speech, the opinions of youngsters in the Netherlands will be passed on to world leaders.'
And finally: Why should all Leiden students vote for you?
'I have shown that I can hold my own in a debate and can deliver a message clearly and powerfully. In 2019 I was captain of the best school debating team in the Netherlands, and in 2020 I was in the final of the national speech contest Op Weg Naar het Lagerhuis (literally, on my way to the House of Representatives). Besides that, I'm always prepared to listen and I'll do my utmost best to make sure that your opinion counts. I'll fight for our cause, as only a Leiden lawyer can!'
See Noah arguing his case (in Dutch):
You can hear whether Noah has received enough votes to call himself UN Youth Delegate Human Rights and Security for a year during the Nacht van de VN (in Dutch) on 23 October.