Alumna Fleur van Elk about studying and working
Alumna Fleur van Elk graduated cum laude for the research master's program Cognitive Neuroscience and started her PhD trajectory at the Erasmus University in Rotterdam. For Humans of Psychology, Fleur talks about studying, working and has advice for current psychology students.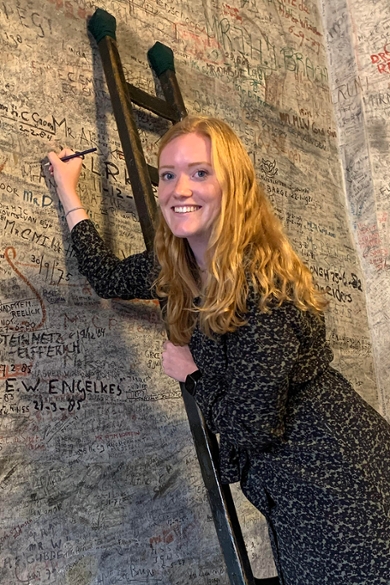 Why Cognitive Neuroscience?
During the Bachelor's program in Psychology in Leiden, I developed an increasing fascination with the functioning of the brain, and in particular the connection between what happens in your brain and how that translates into behaviour. What the brain can do and the consequences of brain damage are subjects that fascinate me endlessly. Although I first thought I wanted to become a clinical psychologist, I found out soon during the course that this was not quite right for me. On the other hand, my attention was increasingly drawn to research, how we actually get all the knowledge I was learning and how nice it is to be able to think about how you would investigate certain insights. I particularly found research into brain activity with all available technological gadgets (fMRI, EEG, PET, etc.) special and I wanted to gain more experience in it.
When I chose a master's specialisation, it soon became clear that it should focus on improving research skills and of course on cognition and neuropsychology: the research master's program in Cognitive Neuroscience! I absolutely liked this choice. I am very happy with the practical knowledge of ,and experience in, research skills: statistics, programming, applying research techniques and academic writing and presenting. The study was also challenging and refreshing in terms of content. It was a unique experience in which applying knowledge and learning many useful skills was central.
What does your PhD program entail?
As a PhD candidate at the Erasmus University Medical Center (Erasmus MC), I work in the Department of Public Health. I am working here within a project in which an intervention is being developed that is specifically aimed at healthcare workers with night shifts to improve their sustainable employability and sleep. After implementation, this intervention will also be evaluated for effectiveness. An enormously grateful and important subject that deserves attention, especially in these times.
It is very different from what I was involved with as a student, but the step to a PhD track was very logical. During my master's program I noticed that my preference lies in practice-oriented research in which I use my research skills directly for the interests of (a group of) people. I have absolutely found that within this project
What would you like to achieve with your background in psychology and neuroscience?
Knowledge of human behavior and the underlying mechanisms is very relevant and easy to apply anywhere. I especially hope to (continue to) work together with people from other disciplines in order to bring together different views and perspectives and to use them to mean something for society. This can be done in different ways and in different functions and organisations, but for now I really enjoy doing that as a researcher. Who knows what the future will bring.
What advice would you like to give to psychology students?
I would like to inform current students that you are undergoing major developments by discovering the possibilities outside of your regular studies and that you can get a lot of satisfaction from this. I myself am very grateful for the opportunities that I have had within and outside my studies to discover multiple sides of myself and to develop various skills, such as in relevant side jobs, the honors program, studying abroad, a board year and committees.
Also, I would like to say that you can achieve a lot if you do your best and work hard, but that it is important to set your own boundaries and organize your student time in such a way that it is feasible for you and above all fun!