Practicum Artium: creativity at its best
Practicum Artium is a joint programme by Leiden University and the Royal Academy of Art (KABK) that offers students the opportunity to develop their artistic skills. Due to the pandemic, this year's exhibition will take place online so we asked a few of these talented students about their experiences.
Dylan Brown Wilkinson, International Studies
Dylan studies International Studies at Campus The Hague. He was looking for a class in The Hague so that he could practice drawing on a regular basis when he learned about Practicum Artium: 'Beforehand, I would go through spells of drawing a lot and then completely ignoring it for half a year. After browsing the Prospectus, I found the Drawing 2 class at KBAK which was open to Leiden University students and, most importantly, free!'
'Eric Hirdes, the group's tutor, set the tone for the group. He hosted a class which encouraged the expression of ideas through class presentations, small group discussion and one-to-one conversations. Of course, this was all before the pandemic, forcing the class the dissipate and reconvene on the online platform of Microsoft Teams. Nevertheless, weekly calls between individual students and Eric set us on a path to showcase our work on the online exhibition in the beginning of June. I would like to thank him for being so reliable, flexible and encouraging during such an unpredictable period!'
'What set me off was listening to a podcast about satire. Its ability to convey a message that would maybe not be allowed to be written as bluntly, whilst also managing to provide comic relief and, consequently, making the unsavoury truth easier to swallow. Drawing satire also enabled me to do two things, practising body forms and human faces whilst also reflecting on the human condition during this socially isolated, politically pressured and economically squeezed period.'
Joey Tol, Psychology
Joey just finished the bachelor's in Psychology and did the Graphic Design course. 'I followed a Practicum Artium programme in Photography two years ago and I really enjoyed it, so I decided to do another one in Graphic Design', Joey says. 'Due to the corona crisis, we had to switch to working from home mid-programme, but it was still very interesting to have online discussions and have one-on-one video calls with our teacher about our work.'
'My work, titled Women Leading the World, is a booklet created with the intention of showing the many facets of female leadership. I wanted to analyse, explore, and break down ideas of gender, as well as research how gender affects us throughout our lives in opportunities concerning leadership. The booklet is a small – and therefore incomplete – database of women who have shown leadership in some way, be it in a positive or negative way. By showing that perhaps our ideas of female leadership differ from male leadership, I hope to create awareness in those who read it, so that they may evaluate their own opinions on society's ideas of gender and leadership.'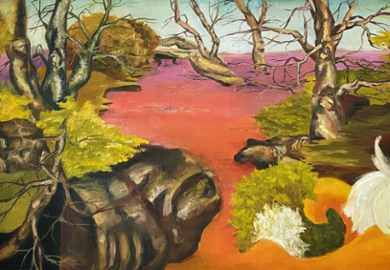 Liza Klimova, Arts, Media and Society
Liza followed both the painting course and the drawing course. 'I missed doing hands-on work during my studies. I've always loved learning about art which is why I chose Arts, Media, and Society, but we only cover theoretical work or we do research. I wanted to challenge myself and see how much I can improve my art practice and how I can apply that to my studies.'
'For me, Practicum Artium was very meaningful and rewarding, because I hadn't attended formal art classes before. At the end of the courses, I felt improvement both in my art practice, as well as in my attitude towards what I make: I feel more confident and have more pride. The professors were very helpful and responsive even during the times of COVID-19. Although it was a pity that we couldn't have classes physically, the professors made it up with their enthusiasm and the staff made a lovely online exhibition.'
'The symbiosis between humans and nature and new ways of reimagining landscapes inspired my works for the painting courses. I have an interest in the environment and it has always fascinated me how we attribute human characteristics to nature (e.g. saying Mother Earth). Therefore, in my works, I tried to apply human characteristic to a landscape by trying to mimic skin texture to trees or earth or colour the water red to illustrate blood. I've been inspired by my dreams; the colours and shapes of the more abstract paintings were inspired by emotions that I experienced during the day or in my dreams.'
About Practicum Artium
Practicum Artium is a programme specially developed for students of Leiden University with a talent for visual arts. Students attend classes at the Royal Academy of Art in The Hague from a wide range of electives in drawing, painting, graphic design and photography: a unique opportunity for your further artistic development. The classes are mostly held in the evening, which makes it easy to combine this talent programme with your academic study programme.