'I've only just got here and I love Leiden already!'
Distance, distance and distance again. That's the motto of this week's Orientation Week Leiden (OWL) for international students. And the OWL might be on a small scale, but fun is being had nonetheless.
The maximum capacity for the face-to-face sessions is 75, says Lisa Claessen from the OWL board, to ensure that, with the crew, there are never more than 100 people present at any one time. And lunch vouchers stop people from descending on the same place for lunch. Lots of participants are online anyway: over 700 internationals are following OWL online because they are still in quarantine or are starting the academic year at home. There's an online pub quiz, game night, chat sessions and other 'meet and match' activities. Around 550 international students have signed up for the in-person programme. We asked four of them about their OWL experience and what they are expecting from their studies in Leiden.
Karel Jenis (27, Czech Republic)
Master's in Industrial Ecology

What do you think of the OWL so far? 'I think it's a good introduction week. It's really useful, especially if you're new to the Netherlands. Before coming here I studied Industrial Engineering & Management in Eindhoven and did research at Heineken in Zoeterwoude, so I already felt at home in the Netherlands and speak the language. I'm mainly taking part in this week for the contacts and to find out about the international clubs.'
What are you expecting from your studies in Leiden?'I want to gain a lot of knowledge and build up a good international network. The master's programme I'm doing is partly in Leiden and partly in Delft. Both are top universities. They've got a good international reputation and I want to reap the benefits of that.'
Did you choose Leiden because of the ranking?'The ranking is a plus point, but I also chose it because it's a nice city. It took me two years to start appreciating Eindhoven. Leiden took a week! It's the history, the culture and the location in the Randstad area that make Leiden so appealing, not to mention how international the university and city are. Eindhoven attracts lots of internationals from China and India, but they tend to keep themselves to themselves. In Leiden everyone comes from all over the world and they mix more. That's much more fun and interesting.'
Meena Pituktae (24, Thailand)
European International Law

What do you think of the OWL so far?
'It's great. Everyone is so committed to helping us find our way. It's nice to get to know the city, the University and the other students before lectures start. And impressive that they were able to organise this in these corona times. I'm particularly interested in the student clubs. I want to meet people and integrate. That seems to be going well so far. People here are open.'
What are you expecting from your studies in Leiden? 'I hope to get a very good education. To acquire a lot of knowledge and meet a lot of people. I want to build up a good network, a network that will help me later in life, although I don't really know what exactly I want to do later. But I do want to do a PhD, preferably at a European university.'
Why did you choose Leiden?
'Leiden University has a good reputation and is a very international university. The city is beautiful. A kind of mini Amsterdam. I've only just got here and I love Leiden already! History is for the taking here. I really like that.'
Zamani Fitz-James (21, Suriname)
Bio-Pharmaceutical Studies

What do you think of the OWL so far?
'It's really good fun. And great that it's going ahead despite corona. I think they've done that really well. The app is really handy too. I hope to get to know lots of people of different nationalities. That should be possible at Leiden University. This week is a great start. It's interesting to walk around town and see the University buildings. The city has such a rich history.'
What are you expecting from your studies in Leiden?
'To earn my bachelor's degree and have a good time here. I was already in the Netherlands last year, studying Psychology at Erasmus University Rotterdam, but that was definitely not the right subject for me. I prefer technical subjects, so I think Bio-Pharmaceutical Studies will suit me much better.'
What do you think of Leiden?
'I thought Leiden was really beautiful straight away. I'm glad I've found a room here. And I hope to be able to stay, that I'll find a job here. I have the advantage of being able to speak the language, so if I do my best…'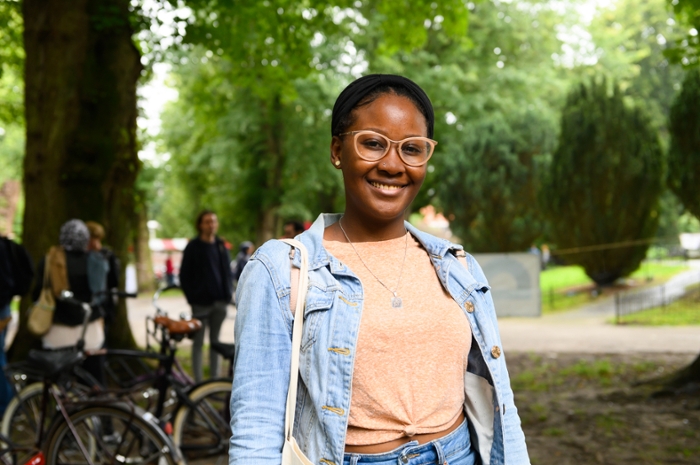 Philipp Rikkert (24, Germany)
Psychology

What do you think of the OWL so far?
'It's useful that I can buy a bike here! I've found a nice one with a double crossbar. Apart from that, I'm pleasantly surprised that there's an introduction week at all in these times of corona. Corona has changed everything, but at least there are enough people taking part in this week, and there are many more participants online. That's really nice. At least you get to know each other a bit.'
What are you expecting from your studies in Leiden?
'I don't really know what to expect. I hope to meet nice people and follow interesting courses. I did a minor in Psychology in Germany. I thought it was really interesting. I want to get my bachelor's degree in Leiden.'
Why did you choose Leiden?
'I chose Leiden because it is international. The whole world is studying here and that appeals to me. The corona pandemic had me doubting whether it was a good idea to study in another country. These doubts are part and parcel of the situation that we're all facing. You're constantly asking yourself what is wise and what you should avoid doing. If I behave responsibly, it doesn't matter where I am: here or at home.'