MIRD graduation 2020
Friday 10 July 2020 was the online graduation of the two-year Advanced MSc International Relations and Diplomacy (MIRD) programme. The ceremony was opened by Prof. Madeleine Hosli.
They all expected another graduation. 'Live', in Leiden University's Academy building. But in block 3 the university had to close due to Covid-19. All the contact, with lecturers & fellow students, turned into only online meetings via Skype, Teams and Whatsapp.
Professor Madeleine Hosli: 'I'm sure it was sometimes difficult for you to fully focus on your work, maybe in entirely changed circumstances, without the usual structure that your study environment provided. But you managed! You did it! You are graduating!'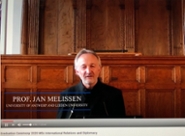 Special experience
Professor Jan Melissen shared his experience with the students and their internships. For many of them the internships were a great experience, but also a tough one. Jan Melissen said he was inspired by these students who were doing internships with so much energy as if this was their only opportunity to work in life. Many of them found out what they want to do after graduation or what kind of career they do not intend to pursue. Students also found out that the code of conduct in school is slightly different from the code of conduct in a company or any other type of organisation.
Professor Melissen concluded his speech with 'I have great respect for what you have achieved. Looking forward to the future, we will stay in touch. We hope to continue to help you and learn from you.'
Collaboration with IRSA
After the speech by Professor Jan Melissen, each thesis advisor said a few words about the theses that have been written by the class of 2020. Between the short speeches by the thesis advisors, they had a moment to acknowledge the work of the International Relations Study Association, IRSA and heard a presentation by its outgoing president, Louise Beynon.
Professor Madeleine Hosli: 'You have been a bridge between students in our programme and the programme team. At the graduate level, it is collaboration that is needed and you provided exactly this. Let me, on behalf of MIRD, thank you cordially for your contributions.'
Class of 2020
Prof. Hosli concluded this special graduation: 'With some creative thinking and original contributions, I hope you and your family still enjoyed today's celebration. Graduating students: congratulations! All the best for your future!'
About this master's programme
The two-year MSc IRD programme (Advanced) offers a unique blend of academic education in international relations and political science with practical graduate education and training in international negotiation and diplomacy. After graduation, many students will work as diplomats or at NGO's and (international) governmental organizations.
Read more about the Advanced master's programme International Relations and Diplomacy.