Dean Joanne van der Leun accepts gift of tableau by Syrian artist
On Monday 13 July, the gift of the artwork Homs by Syrian artist Rabi Koria was officially accepted at the Kamerlingh Onnes Building. The tableau can be viewed in the KOG restaurant.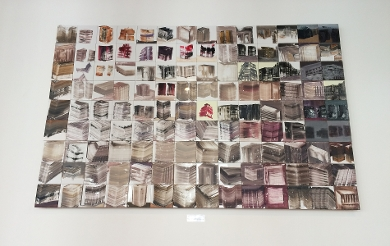 The tableau Homs was a gift to Leiden Law School from Leiden alumnus Jan Maarten Boll, former member of the Dutch Council of State and a retired lawyer. The gift is now official following the signatures of Dean Joanne van der Leun and the donor. Rick Lawson, who was Dean when the idea for the gift arose, was also present.
The artwork is made up of a collection of images, on the right hand side showing buildings in the Syrian city of Homs which were damaged in the war, and on the left hand side piles of papers and documents. In 2015 the artist Rabi Koria was a recipient of the Royal Award for Modern Painting for the tableau, presented to him by King Willem-Alexander.
In 2016, on the occasion of the gift, a symposium entitled Kunst en recht, kunst en onrecht (Art and justice, art and injustice) was held in the Lorentz lecture room at the KOG, where the artist was also present. He talked about the artwork and spoke to a number of professors about art and (in)justice.
Jan Maarten Boll and Joanne van der Leun place their signatures

Former dean Rick Lawson also attended the signing