Working from home in corona times
Three weeks into intelligent lockdown and more to go. An extraordinary situation in which we are now working from home. How do our colleagues do that? Meet ups 'in the flesh' at the printer, having lunch and coffee in the FSW cafe or conferring live and lecturing in the Pieter de la Court Building are out of the question. So we asked a number of colleagues for an impression of their working-from-home mode.
Jasmijn Rana – Assistant Professor Cultural Anthropology and Development Sociology
Before the Covid-19 crisis I was used to working from home, but now I miss my colleagues, students and desktop computer! Fortunately, my partner and I both have the luxury of having a job where working from home is easy. We now work together at the kitchen table and make sure that we swap it for the couch or yoga mat often enough to relax our backs and minds.
Pascal Haazebroek – Assistant Psychology
Daily MS Team sessions at 09:00 AM with a cup of coffee ensure a good start. Look at the picture: What a lovely weather! It almost feels like a holiday... but appearances can be deceiving, so we close the shutters and get to work, #remoteteaching requires discipline.
Clara Bik – Web editor Education and Child Studies
Working from home is quite a task, but certainly not undoable. My work floor has been online for the past twenty years, so I enjoy walking the online paths with all my colleagues for a few weeks! Offline I also have plenty to do: I have 2 school-aged children, a hubby with a skate shop, a bulldog and a garden, so there is no lack of regularity! And when we are fed up with all the predictability and corona stuff, it is 'Mario Time' and we play until everyone has won once!
Matthew di Giuseppe – Assistant Professor Political Science
Working from home is a bit challenging with 2 children (5 & 7). My partner and I take turns watching and schooling the kids. I try make additional time by waking up a bit earlier to answer e-mails and let the kids have a bit more screen-time than usual. Yet, I am just keeping my head above water with administrative and teaching work. It is difficult to get uninterrupted hours to put any serious effort in to my research. Luckily, my co-authors are in a similar position and are understanding.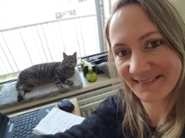 Sabrina Otterloo – Communications adviser FSW
I'm working at home with my cat Puma. For me a little boring, for him these are golden days. But we made good arrangements. Against all expectations he often sleeps on the walk-over-the-laptop-prevention-pillow in the window next to me. Next to that, I gave myself a target of 10.000 steps a day or half an hour of cycling or running. It's very nice weather and exercise and being outdoors helps to take yourself out of the house – physically as well as mentally – and it gives Puma some me-time. I also skype-workout with friends and Nederland in beweging; hilarious and the best programme against RSI!
Carolien Rieffe - Professor Psychology
On the print-screen you can see my video call with students during the Pre-University Honours class. While presenting slides with screen-share, different options regarding the function of anger were discussed. Students came up with different ideas, which led to interesting discussions within the group. The different options that were formulated were later on examined through studying outcomes based on empirical research. We discussed how outcomes based on scientific research could differ from the public opinion. Fortunately, the online meeting went well, and in fact quite similar to our sessions in real-time.
Michel Sjollema - Staff member audio-visual services
I'm still working at the Pieter de la Court building. I am preparing and conducting the renewed audio-visual set up of our lecture rooms. Now the lectures are cancelled I can check all the equipment and take care of the necessary maintenance. I also have the time now to follow some online courses of companies like Extron, that delivers most of our equipment. It's very quiet in the building, in the SOLO room where usually I work together with 11 other colleagues, but also in the central hall. It gave me the chance to take this special drone image of it.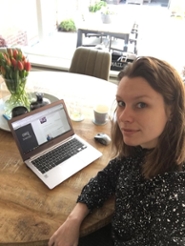 Amber Denissen - Junior communications staff member FSW
Friday 13th, a date I was already looking forward to for weeks. I would start my new job at the Faculty of Social and Behavioural Sciences as junior communications staff member. It turned out to be the date on which all events - including all marketing events of the universities - were cancelled. Now I get to know my new colleagues via video calls and email. This is an introduction period I will never forget.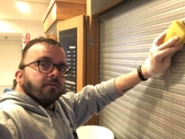 Patrick Petit - Barista Café FSW
I'm also still working here at the Faculty. It's terribly boring and quiet here without 'my' regular customers. It does give us time to work on things we never have the time for on regular days. Together with the colleagues who are still working, we make sure there is a nice vibe and it is nice to talk to some colleagues I normally don't have much contact with. Wishing you all the best from Leiden!