The Yenching Academy selects Honours Student of LUC The Hague
Sylvie Ramakers of Leiden University College The Hague has been accepted to the prestigious Yenching Academy of Peking University in Beijing China, making her the third LUC alumnus in five years to break the ceiling of the notoriously competitive selection.
The Yenching Academy selects 120 students per annum from a pool of thousands of applicants. Twenty-year old Sylvie Ramakers will begin her master's degree in September 2020. The programme she will follow is in China Studies and aims to build bridges between China and other countries by incorporating both Eastern and Western perspectives about China's past, present and future.
At Leiden University College The Hague, Ramakers took 'Earth, Energy and Sustainability' as a major but diversified herself by following courses from both 'International Justice' and 'Governance, Economics and Development'. Her interesting course selection and background will lead her into Yenching well prepared, where she will adopt a research focus on Law & Society.
Speaking on the programme, she likened it to the interdisciplinary approach taken by LUC "Much like LUC, we will first get compulsory courses such as China in Transition, which explores topics of modernity and sustainability. We will then choose our electives, which I am pursuing in the Law and Society discipline. There is also a big focus on leadership and extracurricular activities, such as organizing the Yenching Global Symposium."
Understanding China will Prove Crucial
Ramakers is an outlier in her cohort and her commitment to her studies and ambition to further her learning has been long since demonstrated. For a student with the world at her feet and opportunities at her fingertips, what made her choose the Yenching Academy?
"I think it's crucial to gain a better understanding of China, especially in light of challenges that we have to solve together like climate change. Yenching takes a very interdisciplinary approach to China Studies, and offers extras like the field study module. I love the international character and the fact that we have to study the Chinese language too! I am also very excited to be studying at Peking University and can't wait to discover Beijing."
Given the competitive selection for the programme, what made Ramakers stand out among thousands of applicants? Ramakers has credited her distinctive candidacy to her standing interest in China. "Two years ago I participated in the Netherlands Asia Honours Summer School (NAHSS), which entailed conducting a consultancy project for Unilever followed by a 4-week summer school in Chengdu, China. I think this experience really demonstrated my interest in China and combined with my other international experiences showed my fit for the program." Her experience in NAHSS, coupled with a semester spent abroad studying at LUC partner institute UC Berkley, made Sylvie was confident that she would make the transition with ease.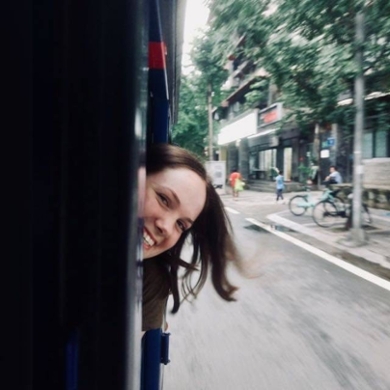 Putting LUC to the Test in Her Upcoming Transition
Sylvie believes that her interdisciplinary and fast paced education at LUC the Hague will prove crucial in ensuring a smooth transition into her master's degree at Yenching. "I will study something I haven't really studied before, so I think LUC helped in the sense that the blocks are so short and fast-paced, and we had to gain new skills and knowledge so quickly. The programme will also be very interdisciplinary, so I can put LUC's favourite selling point to test." Over 80% of students at the Yenching Academy are International and beyond academics, Ramakers anticipates that her time living and studying in LUC's tightknit community will serve her well. The tables will for Sylvie as she anticipates she will be the only Dutch native among her new cohort.
Upon graduation she will receive a Master of Law. After Yenching Sylvie is keeping her options open, however in the future she hopes to combine her expertise in law and sustainability by focusing on environmental law and regulation in China.
The Yenching Academy brings together young people who have demonstrated a talent for leadership and innovation. At Yenching, they are immersed in an intensive learning environment where they can explore China and its past, present and future roles in the world. The Academy's goal is to shape new generations of global citizens with a nuanced understanding of China.