Sneak peek of exhibition Frank Scholten: Archeology and Tourism in the 'Holy Land'
The Rijksmuseum van Oudheden (RMO) was due to open its doors to the small photography exhibit Frank Scholten: Archaeology and Tourism in the 'Holy Land' in April. Since the organisers, Leiden University and the RMO, have had to temporarily close, researchers Karène Sanchez and Sary Zananiri would like to give you a sneak peek of what is on show.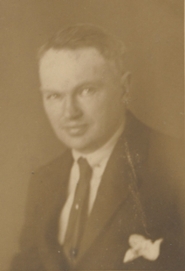 Dutch photographer Frank Scholten (1881-1942) travelled to Palestine in the early 1920s, documenting archaeological and historical sites as well as contemporary life. In the RMO exhibition, 8 works by Scholten are displayed, each highlighting the complex social fabric of early 1920s Palestine. Scholten's photographs give a unique perspective on a radically changing Palestine with the incoming British Administration and the Third Aliyah (third wave of Jewish immigration from Europe to Palestine).
Unique opportunity
Scholten's photographs have only ever been exhibited once before, in London in 1924. While a number of photographs were published in his book La Palestine Illustrée, most of his estimated 25,000 images have never been seen by the public. The Scholten Collection (housed by NINO) is currently being researched by Leiden University researchers Karène Sanchez and Sary Zananiri (LUCL) as part of their research project CrossRoads: European Cultural Diplomacy and Arab Christians in British Mandate Palestine (1920-1950).
Sary Zananiri: "One of the things that we've tried to show in the exhibition at the RMO is that while Scholten is interested in biblical history, archaeology, he is particularly interested in showing how modern industries related to them. I have chosen 3 images that I think are the most interesting as they show how this region was radically changing during this extraordinary time."
Changing 'Holy land'
He goes on to explain, "Scholten shows us how modern infrastructure was being built to accommodate tourists to ancient attractions and how scholarly study was beginning to interpret and reinterpret the things archaeologists were finding. He also shows us new industries that sprang up as a result of this, such as souvenir and antiquities shops as well as travel guide publishing. His work is very unusual in terms of the genre we might call 'Holy Land' photography. He's very conscious of modernity and this makes him different to many other photographers who were vested in biblical clichés."
"Modernisation" (Boulos Meo antique and souvenir store, Jerusalem) Jerusalem VI, c. 1921-23. The Boulos Meo Store, established in 1872, was a Jerusalem landmark, catering to the tourist market, selling antiquities, photographs and souvenirs. This demonstrates how the popularisation of archaeology impacted the social and commercial life of Palestine through tourism. It also shows how Palestinians responded to the demands of the tourism market.

"Amwas" (Imwas or biblical Emmaus) c. 1921-23. Imwas was an important site where Jesus was said to have been seen after his resurrection.  There were several archaeological expeditions in Imwas during the British Mandate (1920-1950). Tourists often visited archaeological sites for their religious importance, encouraged through the many guide books written by archaeologists and the British Mandate Antiquities Department in Palestine.

"Le drapeau francais , le Vendredi Saint (entree du Crédit Lyonnais, Jerusalem)", Choses Intéresantes II album, c. 1921-23. In 1908 the Jaffa Gate Clock Tower was built to commemorate Sultan Abdul Hamid II's silver jubilee. Like much 19th- and early 20th-century architecture in the Old City, the British demolished it. This contradiction of modernity produced vital industries like tourism, while ideas of heritage preservation rejected modern construction.
This exhibition was made possible through the NWO-funded Crossroads project: European Cultural Diplomacy and Arab Christians in British Mandate Palestine (1920-1950) and the Netherlands Institute for the Near East (NINO), through the Frank Scholten fund.