Should I stay or should I go? Internationals in Leiden
The buildings are closed and all classes have moved online: these are strange times for students at our university. And for international students, it is even more complicated. They are here without their friends and family, and had to decide whether to stay here or return home. Three of them share their story.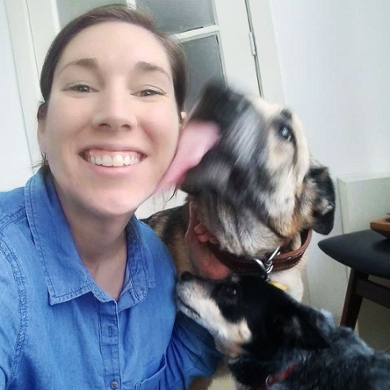 Emily (32) from Michigan, studies Dutch Studies
'For me it has been very hard to adjust to online learning. Especially when you are trying to learn a new language, you depend on that human interaction and classroom to improve your skills. Many internationals chose to go back home due to the virus outbreak. I ultimately decided to stay in the Netherlands: I have two dogs, named Hayden and Yuda, and a cat named Stan, and travelling with them seemed like an impossible task right now. I spend my days trying to adapt to class online, playing with the dogs and working out in my living room – which really annoys my neighbours. And recently I started building a tiny DIY model home!'
Grace (18) from Portland, studies Archaeology
'I actually really wanted to stay in Leiden. But in a matter of days, me and my mum decided I had to return home. More and more flights got cancelled and more and more countries closed their borders. So to avoid getting stuck here, without my family and for who knows how long, we booked a flight back home. Within two days I had to pack up my room. I was worried about the rent, but luckily the student housing office DUWO allowed me to terminate my rental contract earlier. That saves me quite some money.
'Travelling back was so different from the normal situation. I had a morning flight so I planned to have breakfast at Schiphol. Too bad: all the restaurants and food courts there were closed too! And my layover at LAX was surreal. Normally this is one of the busiest airports in the US, and now it was dead quiet. It was a wise decision coming home, also financially, but I'm not happy about it at all. I follow my classes online now, and I hope to return to Leiden soon to continue my studies!'
Taner (25), from Turkey, studies Advanced LLM Law in Digital Technologies
'It felt very surreal when the University announced that there would be no more face-to-face education this academic year. It was then I realised that the lecture we had had on that Thursday afternoon was actually the last time that we all came together for a lecture. I felt devastated when I realised that I won't be able to attend lectures, get coffee with friends and chit-chat during the breaks, have lunch together and spend the entire afternoon in the library and take everlasting breaks anymore.
'Although many of my friends considered returning to their home countries, I decided to stay. But social distancing and self-isolation are hard for me: I'm an extravert so socialising is an essential daily need for me and my friends are very important in my life. I try to stay connected with friends by sending them a text message or giving them a call whenever I feel down or just to ask how they are doing. I believe that staying connected with your social environment is extremely important because it helps us handle the situation we are facing; it helps us feel better. So don't "digitally" isolate yourself as well: stay connected with each other!'
#Studentsintimesofcorona
Want to see more stories about what our students are experiencing right now? Follow us on Facebook or Instagram! Both international and Dutch students are sharing their experiences and giving tips on how to get through these difficult times. Or share your own story with us: use the hashtag #studentsintimesofcorona and we might share your post!