Selma Ablak receives Royal Distinction during digital honours presentations
On 24 April, Selma Ablak was awarded the distinction of Member of the Order of Oranje-Nassau by the mayor of Amsterdam during the digital honours presentations. Ablak works at the Governance and Global Affairs Faculty Office in The Hague. She was presented with the award partly because of her commitment to strengthening the position of women in society, regardless of whether they come from a migrant background or not.
Selma Ablak works as a Planning & Control Adviser at the Department of Financial Economic Affairs at the Governance and Global Affairs Faculty Office. On Friday 24 April, Ablak received a phone call from Femke Halsema, mayor of her hometown Amsterdam, who announced that she is now a member of the Order of Oranje-Nassau. The annual honours presentation, which usually takes place just before King's Day, had to take place digitally in light of the measures implemented to tackle COVID-19. All those honoured will have the chance to receive their ribbon in person later on in the year. Ablak is the youngest woman to receive a royal honour this year.
Improving the position of women
The award was presented to Selma Ablak for her many years of commitment to improving the position of women in society, women both with and without a migrant background, in many different ways. She is chair of Platform ZijN, for example, which strives for a more equal and inclusive society. She organises expert meetings as well as workshops for young girls on the topic of self-determination. Ablak has twice participated in the UN Commission on the Status of Women in New York.
Bringing cultures and religions closer together
Ablak has also been involved in all kinds of initiatives to promote intercultural and interreligious rapprochement. For example, she has organised informal meetings between people of different faiths and in 2015 she came up with the Meet a Muslim project (Ontmoet een Moslim). And between 2015 and 2018, Ablak advised both the police force in The Hague and the municipality of Amsterdam on diversity, interaction with and trust among citizens and issues concerning polarisation and radicalisation.
A volunteer since she was a child
Ablak has been an active volunteer since she was a child; she has always helped people in her neighbourhood with, for example, translations or administration. She contributes to contribute to society as a volunteer in many ways, including in cities other than Amsterdam. In The Hague, where she has been working for several years now, she organises the annual Prinsjesdag (Prince's Day) celebration in the Grote Kerk – a reflection meeting prior to Prinsjesdag.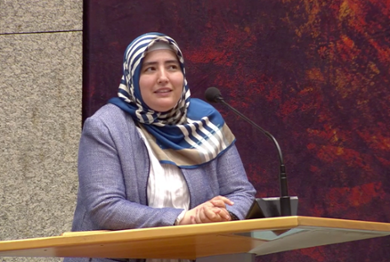 Her performance in the parliamentary debate on whether or not to lower the voting age, held on 30 March 2019 (which you can watch here, from the 40th minute), is a perfect example of her enthusiasm and commitment. The list of initiatives, projects and platforms to which Ablak has contributed, in addition to her job at FGGA and raising children, is hugely impressive – certainly worthy of a royal honour.