Leiden University College The Hague Celebrates The Graduating Class of 2019 ½
On 5 February 2020, Leiden University College celebrated the graduation of its Class of 2019 ½. Referencing Aladdin's 'A Whole New World', Dean Judi Mesman praised the graduates' achievement and encouraged them to pursue new horizons on their journey that has just took off.
After three and a half years at Leiden University College (LUC), 25 students received their honours diploma in Wijnhaven, a central building to Leiden University's campus in The Hague. This was followed by a reception at LUC's Anna van Bueren building in the heart of the city.
Diverse, Original Capstones in Six Different Majors
Dean Judi Mesman compared the graduates to Disney characters, "each is unique, brave and on a life-changing adventure." However, she reiterated that their graduation is not the happy ending of this journey. Instead, they will draw from the remarkable efforts exhibited in their capstones to continue solving global challenges. Prof. dr. Mesman applauded the diversity and originality of this generation's capstone topics, ranging from Rwanda's electricity and Indonesian Islam in Dutch ethnographic collections to Ecofeminist analysis of Daoist philosophy and Sámi traditions in a globalized world. Also, a new record has been broken by a student from the International Justice Major with the longest titled capstone yet. Not only did the audience celebrate the graduates success, but LUC also celebrated its 1000th graduate, Sterre Vester, within this cohort- a milestone of which Dean Mesman expressed her pride.
To introduce each graduate the conveners of the six Majors spoke to congratulate the students for their accomplishments. Dr. Paul Behrens (Earth, Energy and Sustainability) highlighted the importance of interdisciplinary solutions to problems that are crucial to the survival of humans and the planet. Dr. David Ehrhardt (Governance, Economics and Development) explained the difference between specialists who hone one specific skill and generalists, such as the graduating students, who gained a foundation in a range of skills which they can apply during problem-solving and answering any big question with global significance in our contemporary context. Moreover, Dr. Josien de Klerk (Global Public Health), Dr. Daniela Vicherat Mattar (Human Diversity), Dr. Joris Larik (International Justice) and Dr. Edmund Frettingham (World Politics) each congratulated the students from their respective majors and expressed pride of the students' achievements throughout the past 3.5 years.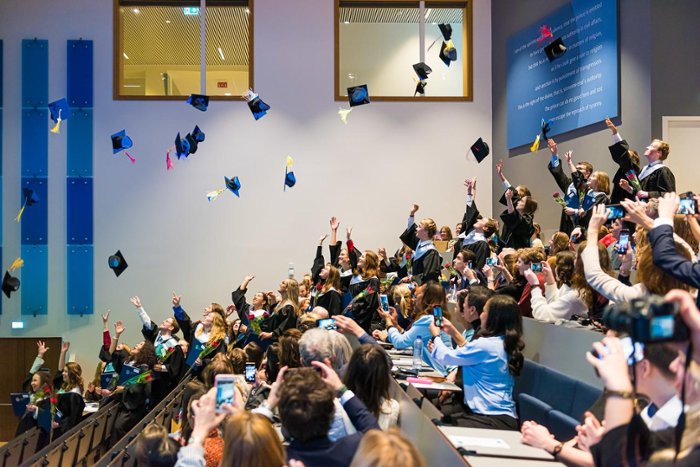 Keep Your Head Up and Stay in Touch!
Graduates and guests sang and clapped throughout the performance of 'Keep Your Head Up' by Edana Keijdener. This was followed by a speech from Tom Geukemeijer, Class Representative of Class of 2019 ½. He reviewed the graduates' involvement in various committees, sport clubs and event organization. Tom also reminisced on their memories together as a class, from the first days of Intro Week until graduation day. After receiving their Honours Bachelor in Liberal arts and Sciences: Global Challenges, the students go on to follow another bachelor degree or a master's degree, get an internship, take a gap year or get a fulltime job. Understanding of the thrilling, yet intimidating, next phase of their lives, Tom concluded with the words of Cheshire Cat from Alice in Wonderland. Tom comforted his peers about the uncertainty of where the road might take them next and reminded everyone of the strength of their friendships.
Lastly, Edward van der Hout, Chair of Evolucio, spoke to graduates about the Alumni Association. Evolucio takes on the role in creating a community and providing a network for LUC alumni to connect with and help each other. He invited the young alumni to stay tuned for communications from the association, especially regarding the first upcoming networking event in April!
Environmentally Conscious
After the ceremony, graduates, parents and friends were invited for a reception in Leiden
University College's building, Anna van Bueren. Meanwhile, the university is consistently working on being more conscious of sustainability in its events. Both these graduation and reception have been the most sustainable yet, with completely vegetarian catering, biodegradable decorations and rented gowns and stoles. The university is happy about making progress and is continuously looking for more and new ways of doing so.
All in all, Class of 2019 ½'s graduation ceremony was encouraging and celebrated how far the graduates have come in this journey. Staff, families and friends are looking forward to their next steps and milestones.
Congratulations, Leiden University College Class of 2019 ½ !