Dies natalis: 'Collaboration requires firm grounding in the individual disciplines'
'Collaboration is increasingly important,' Rector Magnificus Carel Stolker said at the 445th Dies Natalis of Leiden University on 7 February. But, as he heard from a number of Leiden researchers, this is contingent upon a firm disciplinary basis. A novelty of this year's celebration was a joint dies lecture given by two professors.
In his speech, Rector Magnificus Carel Stolker said that universities all around the world are thinking about their positioning, and that this involves questioning who you are as a university, to whom you belong, for whom you exist, in what you want to excel and who your most important partners are. Reflecting further on the last question, Stolker looked more closely at the Leiden-Delft-Erasmus (LDE) alliance. Because reflecting on your own position is also about how you want to shape your relationship with the world around you, at all levels, from local to global. LDE began as a partnership in the field of medicine, but now even offers joint interdisciplinary programmes.
Metaphors
Stolker asked ten researchers from Leiden who collaborate with others for their opinions on this. The question inspired some nice metaphors, such as by physicist Carlo Beenakker: collaboration is like playing in an orchestra; everyone needs to have mastered their own instrument. Migration specialist Marlou Schrover came with a familiar but popular metaphor of the salad bowl: all the distinct components determine the quality of the whole. Boudewijn Lelieveldt, Professor of Biomedical Imaging, suggested a Formula 1 car: all sorts of different specialisms are needed to build this and the specialists don't even need to trouble one another.
10,000 hours of practice
The researchers emphasized that collaboration can only be successful if there is a firm grounding in the individual disciplines. The 10,000 hours of practice required to master a musical instrument also apply to academia, was the message. Or, as legal scholar Simone van der Hof put it: to work together well, you have to have a firm footing in your own discipline.
Joint dies lecture on cybersecurity
In their joint dies lecture – a first at this annual ceremony – Professors Bibi van den Berg (Cybersecurity Governance) and Aske Plaat (Artificial Intelligence) discussed the phenomenon of cybersecurity, a theme that has only become more relevant since the recent ransomware attack on the University of Maastricht and the problems with Citrix software. These kinds of cyberattacks actually serve to undermine society, said the professors, because a safe internet has become a basic need.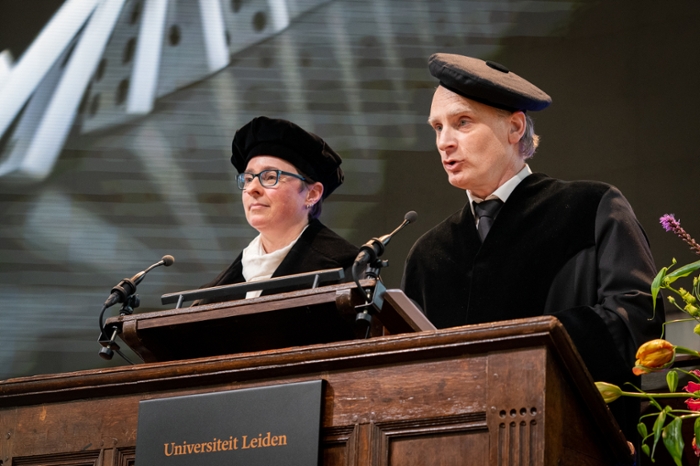 Strong government
These developments call for strong government, which should enforce rules like a health and safety authority to keep the worldwide web healthy. A good example of this is the European GDPR legislation, which has caused media giants such as Google and Facebook to take more responsibility for the privacy of their users outside of Europe too. Universities with a wide range of research fields such as Leiden University also play an important part, said Plaat: 'It is only if we look at the problem from a multidisciplinary perspective that we will be able to fully understand it.'
No disruptions so far
How can it be, the professors asked, that until now we haven't witnessed widespread disruptive incidents, and our critical infrastructures are still operational? There are three reasons for this. The first is that if one system fails this rarely causes a chain reaction with other systems failing in turn because these systems are often only loosely linked. The second reason is that governments and institutions are worried, and are taking preventive measures, which helps. The third is that criminals and terrorists seek to cause the greatest possible impact with the least effort possible. In that case, it seems logical to avoid well-secured infrastructures that would require extensive technical knowledge to disrupt or damage.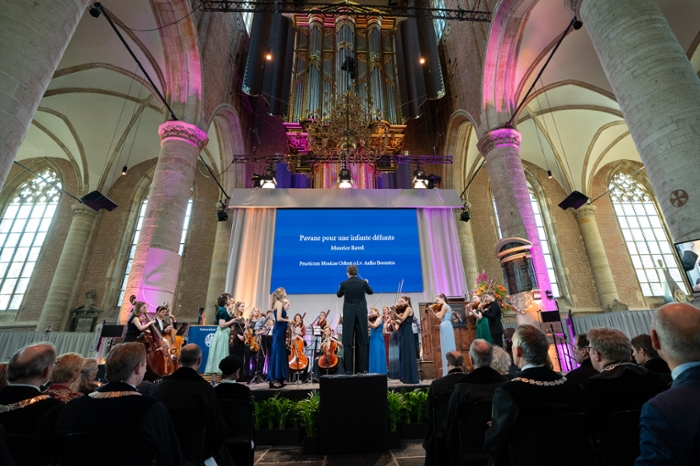 Honorary doctorate for Professor Lungisile Ntsebeza
After the lecture, it was time for a special ritual: Professor Lungisile Ntsebeza from South Africa was awarded an honorary doctorate. Ntsebeza is Professor of Sociology and African Studies at the University of Capetown. Honorary supervisor Jan Bart Gewald, Professor of African History at Leiden University, mentioned Ntsebeza's eventful personal history; during apartheid, Ntsebeza spent over five years in prison because of his battle against the repressive regime. After the regime fell, Ntsebeza could have rested on his laurels and work for the new government, Gewald remarked. 'But you stayed true to your calling as a teacher, scientist and liberator of people, regardless of their race or beliefs.' Ntsebeza's research into the meaning of democracy for South Africans in rural areas, history of land reforms and social movements offers a better understanding of South Africa, said Gewald.
Failed land reforms
Ntsebeza was visibly moved. He thanked Gewald and addressed the land reforms. He called them 'a colossal failure', as to this day white South Africans have transferred less than 10% of agricultural land. He also mentioned some positive developments. In 2019, President Ramaphosa signed a new law giving Khoisan communities more rights to shape their own government in the Western Cape and Northern Cape. This has also had an effect on his own research. 'I'll be focusing more on the land issues in this area, which date back to the 17th century when Dutch colonists took land from the indigenous inhabitants. A lot of archive documents will be in Dutch, so I see a lot of opportunities for collaboration with my Dutch colleagues at Leiden University.'
Special guest
The brand-new honorary doctor enthusiastically pointed out the presence of a special guest in the Pieterskerk: South African Professor John Dugard, who is also a former Professor of Public International Law at Leiden University. In 1977, Dugard defended Ntsebeza when he and others were arrested for studying 'inflammatory literature'. Ntsebeza: 'I am thrilled to meet Professor Dugard 43 years later, under totally different circumstances!'
Protest in the procession
Before the traditional procession of professors to the Pieterskerk, there was a short protest by Leiden University students from Extinction Rebellion. This group protests for action to deal with climate change. Beadle Erick van Zuylen welcomed the students in front of the Academy Building, after which they joined in the procession – dressed in their own robes.