Looking Back: Alumni on the Rise
Graduates of Leiden University College The Hague, Juliette Nicolai and Elena Venturoni on their recent win in the Global Health Case Challenge 2019, Copenhagen.
Article Written by Jayne Fitzgerald.
The Global Health Case Challenge 2019
Seventy-two students, of over thirty-one nationalities, representing twenty-six study programs from accross the globe, gathered in Copenhagen, Denmark to participate in the Global Health Case Challenge 2019. Coming out on top as winners were two former students of Leiden University College The Hague, Juliette Nicolai and Elena Verturoni.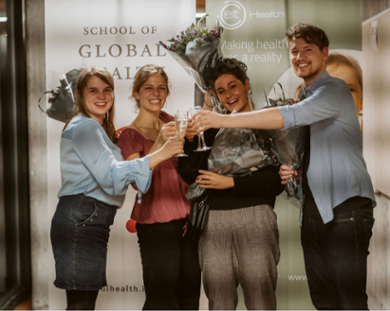 The Competition
The highly competitive Global Health Case Challenge saw students gather from leading research universities globally to see their ideas weighted and judged against one another before a panel of esteemed judges in the field.
The Case Challenge given to students required them to design a strategy and intervention in order to break the curve of obesity through the promotion of health and wellbeing in a local community in one of three cities: Copenhagen, Shanghai or Mexico City.
With student representatives from some of the strongest universities across the field of Global Health, teams representing Harvard University, Trinity College Dublin and the University of Copenhagen were among the front runners when it came to what resonated with the judges.
The Challenge
The competitors were given a case followed by twenty-four hours to produce an intervention and strategic approach to resolving it. They were given five minutes to present their case solution to a panel of renowned judges in the field of Global Health.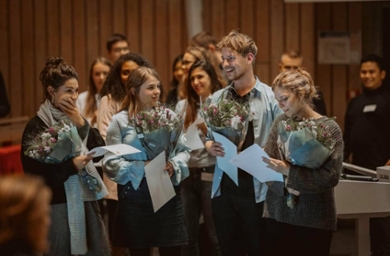 An Interdisciplinary Approach
Elena Venturoni, graduate of Leiden University College, The Hague majored in Global Public Health before moving to the University of Copenhagen to further her expertise in the field. The time constraint on solving the case challenge was something that pushed Venturoni and her team outside of their comfort zone to produce a winning idea and edge out their competition. In the end however, Elena accredited their team's interdisciplinary edge as what pushed them across the finish line.
"Winning the case competition in Copenhagen was really rewarding. However, this doesn't mean the 24 hours trying to solve the case went smoothly all the way through. It was of course very stressful at times because of the time constraint. There were quite a few disagreements throughout the process but we bounced back confidently. Our teams' diverse academic background (two members from global health and two other members from international relations) was definitely a strength."
Juliette Nicolai, graduate of Leiden University College majored in Global Public Health before moving to Copenhagen to pursue a Master's degree in Global health with a focus on disaster risk management. Facing stiff competition it begged the question from a team that were tagged as underdogs entering the Case Challenge - what distinguished their idea from those of the other teams?
"The jury said they especially liked our idea because it was an approach, a conceptual framework rather than a product like most other teams did. They also pointed out the idea had high potential for replicability. We were super humble none of us actually believed we had chance at winning this, I guess they noticed and appreciated it somehow"
For students with highly academic and conceptually orientated skills the competition demanded that they transfer their skills and push themselves to think outside of the box.
"I had never had any experience with innovation and entrepreneurship, and I was curious. (In Copenhagen) My teachers promoted the contest at the beginning of the year, and I thought it was a great opportunity."
Moving Forward
Their recent win has served as a stepping stone for them to take their case and idea forward. In December the team took their winning idea to the i-Day Winners' EPari in Paris. Following this they had the opportunity to enter a European level Case Competition organized by the EIT Health where they made it to the final round.
Both Elena Venturoni and Juliette Nicolai will spend the foreseeable future completing their MSc at the University of Copenhagen, but undoubtedly the opportunities before them will continue to grow as they push forward into the field of Global Health.
Team members: Kirsten Häntzschel, Tobias Weitzel, Elena Venturoni and Juliette Éléonore Nicolaï – all MSc Global Health students from University of Copenhagen.
Read More on Students and Alumni of Leiden University College The Hague Here