'It's time to modernise African Studies'
In 1960, not one but 17 African countries became independent. Sixty years later the African Studies Centre Leiden (ASCL) is offering a wide programme to mark this celebration. African Studies itself proved to be a topic of conversation at the kick-off conference on 30 January.
The year 1960 could be termed the year of African decolonisation because although Ghana had taken the lead by declaring its independence from the United Kingdom in 1957, never before had so many countries gained their independence in one go. From Mali to Madagascar and from Congo to Cameroon, more and more new nations proudly flew their flags.
But true decolonisation requires much more than your own flag. At least, that was the conclusion at the opening conference Africa, 60 Years of Independence. Even 60 years after the event 'decolonisation' is still the keyword. Whereas in the past this meant gaining control of a defined geographical area, it now means decolonising the mind: how to separate knowledge about the African continent from the colonial past?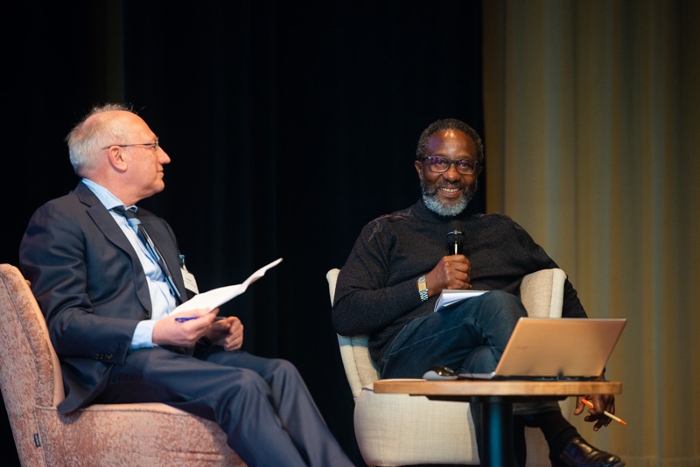 Beyond the colonial agenda
For a long time African Studies itself gave the wrong impression of the continent, said Lungisile Ntsebeza in his opening speech. He is Professor of African Studies at the University of Cape Town, and will receive an honorary doctorate from Leiden University. 'For too long knowledge production about Africa has been in the hands of Europeans or Americans with their own colonial or imperialistic agendas. It is time to modernise African Studies. Let's not talk about Africa but with Africa.'
In the lecture that followed, Utrecht professor Birgit Meyer explored this in more detail. She conducts research into religion in Africa, and has seen with her own eyes how one-sided African Studies has always been. 'In the past Africans were seen as inferior because they had not been converted to Christianity. Nowadays it is often said that Africans are backwards because they "aren't yet secular."' The prevailing idea is that the Western way in all its facets is worthy of imitation.'
Counterbalance
How then do you decolonise African Studies? You should begin by conducting more research in Africa, said Ntsebeza. In 2013, he was the first to bring together all African researchers who are involved in the study of their own continent. This led to the creation of the Association of African Studies of Africa (ASAA), an organisation that was intended as a counterbalance in a discipline that has always been dominated by Western researchers.
The Western institutions are not resting on their laurels either, said Ton Dietz, the former director of the ASCL. Wherever possible, Leiden researcher work with African academics. 'And our library follows the principle that at least half of our books should come from Africa. We thus encourage our students to read books by African authors rather than just books about Africa.'
Equal partnership
Dietz warns against too radical change. 'It can sometimes lead to reverse racism, with everything that is white being suspect. I myself am convinced that true decolonisation should go further than skin colour alone.' Ntsebeza concurs: 'We should deal with certain ideas rather than the people who express these ideas.'
'It is an important discussion,' said a staff member from the Moroccan Embassy in the Netherlands, who had been invited to the conference. 'The future of Europe is dependent on Africa, when it comes to peace and stability, for instance. We can only guarantee this if we work together in an equal partnership. This equality has not always been a given.'
Text: Merijn van Nuland
Photos: Eelkje Colmjon
Mail the editors