PhD Defence Annemarie Madani-Abbing
On 22 January 2020, Annemarie Madani-Abbing will defend her dissertation 'Art Therapy & Anxiety'.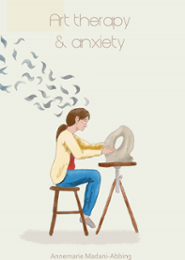 Annemarie Madani-Abbing is a lecturer and researcher at the University of Applied Sciences Leiden (HL). As a dual PhD candidate, she conducted research into an intervention that until now had hardly been researched but is often used in order to treat anxiety art therapy, and anthroposophic art therapy in particular.
The primary goal was to study the effectiveness of art therapy in treating anxiety and to explore the working mechanisms. The results of a randomised controlled trial (RCT) showed preliminary findings of the effectiveness of art therapy when compared to a waitlist group.
The treatment that comprised of three months of art therapy sessions showed a large effect on anxiety symptom severity in women. The therapy also improved the quality of life and various aspects of self regulation: 10-12 sessions led to a higher resting HRV (which can indicate a lower stress level), improvements in the regulation of emotions (for instance being better able to cope with emotions) and improvements in daily executive functioning (for instance executing daily tasks, work memory and planning/organising).
The second goal was to explore how case studies could be used for research in the field. This part of the dissertation is geared towards developing tools with and for the benefit of therapists in clinical practice and education. A publication guideline for case reports has been developed and has been positively evaluated in practice. A case report of a female client with anxiety showed that the anxiety level decreased and that improvements in emotion regulation and the executive functions could be related to specific structured art therapy exercises.
The findings of the PhD research support the referral to art therapy in the treatment of anxiety and provide directions for further studying effectiveness and working mechanisms of art therapy, in order to learn about their specific indications and to support clinical practice.
PhD Supervisor
Attend the PhD Defence
The defence is open to the public and will take place on Wednesday 22 January 2020 at 13.45 exactly at Leiden University's Academiegebouw, Rapenburg 73 - Leiden.
Promotions are open to the public, no registration required.