Less finger-wagging, more pragmatism
Rather than finger-wagging, the Netherlands has opted for pragmatism when it comes to human rights. That is what Minister of Foreign Affairs Stef Blok said in a lecture in the Academy Building on Human Rights Day on 10 December 2019.
In his lecture, Blok declared his belief in the power of the Netherlands as a trading nation. 'Wherever we go, we bring up the subject of human rights. Countries that we visit usually want something from us: our knowledge or investment. You can avail of this to raise the issue of human rights,' he said.
Putin
But does it make a difference? Blok also noted that Russian president Putin, for instance, isn't one to be told what to do. He quoted Renée Jones-Bos, until this year the Dutch ambassador in Russia, 'The best thing you can do for us is to ensure that your own country and the EU keep working properly. Then you are a shining example of a constitutional state and stability, and you don't give authoritarian regimes a chance to counter-attack with justified criticism.' Putin has already resorted to whataboutery after being criticised a few times by the Netherlands.
In his lecture, Blok mentioned various human rights initiatives that the Netherlands is working on or has even started itself. In the Netherlands, there is the Shelter City programme that gives human rights activists from all around the world who are under continual threat the opportunity of three months' respite in the Netherlands. They are given personal and cyber security training. Twelve Dutch cities are taking part in the programme, and over 100 human rights activists have since been offered temporary shelter.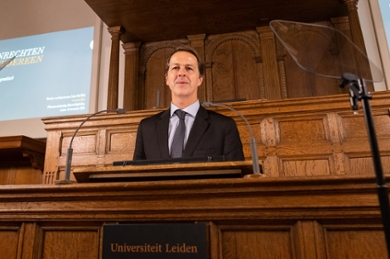 Personal sanctions
Another initiative involves gathering information, together with Lichtenstein, Australia and financial experts, about illicit financial flows around the world. The aim is to gain a clear idea of how to intervene. Blok then wants to act on this. In the EU, the Netherlands has successfully called for sanctions against those who violate human rights. Blok said he had come straight from Brussels, where he had won the support of his fellow ministers. If a European law on this is adopted, offenders can be denied access to the EU ('No more shopping in Amsterdam or Paris,' said Blok) and to financial funds in Europe. During its membership of the UN Security Council, the Netherlands was responsible for a similar scheme in the UN: the UN sanctions on Libya were expanded to include human traffickers. The aim is to freeze bank accounts and impose a travel ban. Annually, 136 billion euros are earned through human trafficking.
Effectiveness
Effectiveness was Blok's mantra in the lecture: no more of that dreaded finger-wagging but pragmatism instead. The trouble is that in practice things are less clear-cut. Five Libyan human traffickers are already on the UN embargo list. But it is difficult to hit them where it hurts, partly because they get family members to open accounts and transfer their money to these. Blok therefore said that tackling human rights violations is often a matter of baby steps. And some initiatives have not worked at all – not yet at least. Bringing Syrian president Assad in front of the International Criminal Court, for instance. What is also proving tricky is prosecuting IS fighters, preferably in the region. Nevertheless, said Blok, the Netherlands is the driving force behind attempts to gather as much evidence as possible about the atrocities by IS. 'Our country is investing 5.5 million euros in this because if prosecutions do ensue, we really must have something.'
Negative trend
The UN adopted the Universal Declaration of Human Rights on 10 December 1948. It was ratified by nearly every country in the world. However, only 4.5% of the global population today lives in a full democracy, and over 43% lives in a flawed democracy. The gross national product of free countries is also dropping in comparison to unfree countries. 'The democratisation wave appears to have stranded on unfree shores,' said Blok. 'Non-liberal democracies have the wind in their sails.' As a consequence, many people were murdered for their beliefs or for what they are, such as LGBTI, and there is a huge amount of repression worldwide. But giving up is not an option, said Blok, hence all the initiatives.
Blok also showed himself to be an adept politician. Student Jan Henric van Vliet, who is currently studying in Utrecht but is hoping to do the Master's programme in Philosophy of Law in Leiden asked him about weaknesses in his own human rights. 'You can always object and go to court,' was Blok's evasive answer.
Birthday
After the lecture, the evening reached a climax with a rendition of 'Happy Birthday To You' (or at least the Dutch equivalent). Not to celebrate the 71st birthday of the Declaration of Human Rights, but the 55th birthday of Minister Blok himself.
Read the full lecture by Minister Stef Blok [in Dutch]: Human rights and foreign policy: the best policy is a policy that works
Text: Corine Hendriks
Photos: Monique Shaw
Mail the editors