Four pressured months trying to solve society's woes
In the National Think Tank, 20 young academics spend four months mulling over a solution to a societal problem. Two Leiden alumni tell us more.
The National Think Tank, which was set up in 2005, has become a real institution. This is because the 20 super-smart young academics in the Think Tank have access to politicians, captains of industry and other influential people. This provides them with input and also ensures that the solutions that they come up with can be implemented. These solutions are always practical and concrete.
Three hundred alumni
Each year, the National Think Tank – an independent foundation – chooses a societal issue relating to one of four areas: Health and Health care; Education & Learning; Sustainability; and Social Innovation. This year's theme is: how can we create a digital society that is healthy, resilient, inclusive and fair? In a room at the University of Amsterdam, 20 young academics – including master's students – shut themselves away from mid-August to mid-December to make a first analysis of the problem with the aid of data and reports. They then come up with around ten concrete solutions. The level and tempo are high.
They present their solutions on 12 December. The participants decide afterwards whether they want to continue to work on their solution and if so how. The foundation encourages them to do so, organising a weekend each spring, for instance, to help them implement their solutions. See below for just some of the results. The Think Tank already has around 300 alumni who work at all sorts of organisations and can thus help out with the implementation. Its many partners, such as businesses, philanthropic organisations and politicians, also play a role here. The partners, which include Leiden University, help the participants to fine-tune their research assignment at the beginning, are a point of contact and are often one of the backers of the foundation.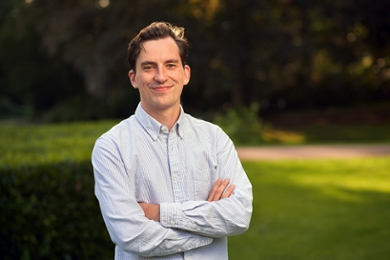 What did you like about the National Think Tank?
Bruno Verdam studied philosophy of law at Leiden and went on to do a second master's degree in liability law in Utrecht. He will start a PhD there once he has finished the National Think Tank. 'It's a unique opportunity to tackle societal challenges. You get your hands dirty, go to conferences and fairs, and interview lots of experts. It's really inspiring! And I'm the only law graduate in the group, which makes a nice change. As regards the theme: my impression is that digitalisation is much bigger than we think, which makes it high time to think long and hard about the effects on society.'
Lieke Groen graduated in psychology and philosophy in August 2019, and had already worked as a lecturer on the psychology programme in Leiden. Once she has finished the National Think Tank, she will start looking for a job. 'I thought it would be fun to join a group of ambitious people from all sorts of disciplines to think about a societal challenge. I already tried to seek out that interdisciplinarity during my studies at Leiden by combining two different programmes, but I realised that the two programmes attracted the same kind of people. At the Think Tank, you automatically have around 20 different perspectives, which is crucial to finding a good solution to a problem and essential in times of echo chambers and filter bubbles. And you really are trying to make a difference, which was something I was ready for after all that studying.'
Which skills did you use and which new ones have you learnt since August?
Bruno: 'During my studies, I learnt all about analytical thinking: What are the relevant factors? What are the links? And how does one thing relate to another? What we did less of was working together very intensively and efficiently under high pressure. We have to do both here. And we have to constantly convert our research into output. These skills are very useful. We are also doing a lot of work on our personal development, with feedback, communication, teamwork and personal leadership, which is mostly new to me. And as well as all of that, we are doing an eight-week mindfulness course that focuses on mental balance. The problem-solving techniques that we are learning are very useful: you can cunningly use them anywhere.'
Lieke: 'I love to get to the bottom of issues and find out all about them. What I'm learning now is how important it is not just to think but to do: get out into the world, talk to people and call someone up out of the blue to ponder over the options. That really helps you solve a particular problem. And the pressure to work quickly and efficiently has taught me that this is actually possible without compromising on quality. I'm really going to benefit from this.'
And what are the advantages of taking part in the National Think Tank?
Bruno: 'Making a difference to society.'
Lieke: 'In such a disparate group, I have become aware of how I work, what I think is important and what I'm good at.'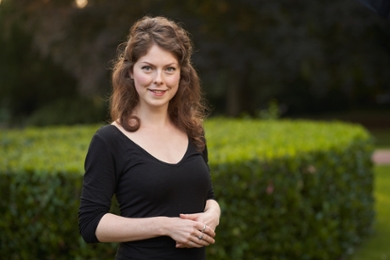 Do you have any idea of whether and how your solutions will be used?
Bruno: 'We try to actually implement our solutions wherever possible – you're not really finished after those four intensive months – and that does tend to happen [see below, ed.]. The National Think Tank also tries to influence policy. That is less immediately visible, but a few years ago, for instance, the Think Tank tried to get people to use the terms practical and theoretical education instead of low and higher levels of education. This change has now been brought about.'
Lieke: 'An important aspect of our analyses is that we always try to put ourselves in the shoes of the people who are experiencing a problem.' Who are they? What do they have to say? And what are their needs? These form the backbone of our analyses and the solutions that we come up with, making it more likely that they will actually be adopted.'
How is it for 20 of you to work so intensively on such a big project?
Bruno: 'Great fun, dynamic and inspiring! There was a lot of laughing. We gave presentations for one another every Thursday evening and the results were always enormously impressive. Everyone has their own talent, and it is really nice to see the results of this.'
Lieke: It's true: it really is great fun, and for the duration of the project I'm even living with some of the other participants. It's teaching me a lot about group processes, which, with my background in social and organisational psychology, I find really interesting. People in the Think Tank generally have strong opinions, which they're not afraid of sharing, and they aren't averse to the odd discussion. From the sandwiches on the table at lunch to the Think Tank's vision, we like to discuss everything, and even rig up all sorts of voting procedures to ensure we reach a consensus...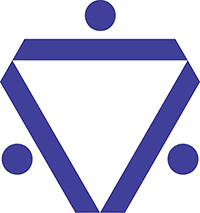 A range of familiar and less familiar initiatives have originated from the National Think Tank
The logo of the National Think Tank depicts the trinity of Concrete Solutions, Societal Impact and the Strength of Young Brains.
Text: Corine Hendriks
Mail the editors