Being a part of the network of Leiden graduates across the world
The students of European Union Studies visited Brussels this October, and it was another successful and worthwhile trip for those students in the MA International Relations programme.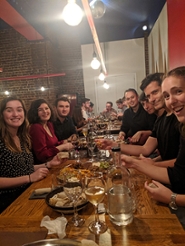 Sharing experiences
On one of the evenings our alumni joined us, where we ate a wonderful Ethiopian meal at Kokob, a popular favourite in Brussels, where they were able to share their experiences at Leiden University and their careers so far. This year, the alumni held various jobs in Brussels, ranging from NATO, the Council of the EU, a consultancy firm and various organisations. Leiden's alumni events are always very beneficial for the students, who can really see where their degrees could take them!
Professional and personal opportunities
Not only this but our alumni love being a part of the network of Leiden graduates across the world. One alumna, Beaudine Verhoek who currently works at NATO in Brussels stated, "It is great to be part of Leiden University's diverse, robust and global community. Through their hosting of events around the country and abroad, I have had already various professional and personal opportunities." We had a great visit to Brussels, and look forward to further chances to meet and connect with other Leiden alumni.