Photo contest FSW Memories
Are you a great photographer? Or not at all, but you do have a photo that captures your specific memory at our Faculty? Join the Faculty's photo contest! We are looking for pictures by students, staff and alumni of the Faculty of Social and Behavioural Sciences (Dutch abbreviated 'FSW') to bring together in the exposition 'FSW Memories'.
Images of FSW Memories
Did you enjoy your EL CID last August or do you look back way further at memories during your time as a student? Do you still have photos of your time as a staff member when we still paid our coffee in guilders and would you like to share how research and teaching was done back in the days? Or do you still talk about that picture of that fieldwork trip, study association party or internship?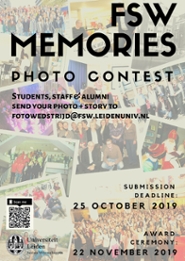 Prizes and exposition
Next to eternal fame for the selected photos in the exposition in the Pieter de la Court Building, you might win some interesting prizes!
So grab your camera or dive into your archive and send us your FSW memories!
The rules
1 photo per person, taken by the submitter, as attachment in the e-mail

Send in before 25 October 2019 to

fotowedstrijd@fsw.leidenuniv.nl

Send in your photo accompanied by your story, including:

Title & description (max. 100 words)


This will be used for the text accompanying the photos in the exposition.

Place and date of the photo

Name and category of the participant (Bachelor student, Master student, PhD candidate, lecturer, staff, minor student, alumni at the Faculty)

Your e-mail address

Format:

JPEG

best to aim for a minimum of 1 MB to assure its fit for print

best to aim for ratio: 2:3 (magnification 40x60cm possible)

Photos can be adjusted within the following limits:

Cropping, sharpening, adjusting contrast, lighting and white balance

Brushing away small spots and smudges

Not permitted is cloning, removal of dominant elements or adding such element, text or frames

Photo's should not be artistically modified. So no creative filters. The contest is about photography and memories, not artificial art.

No correspondence will be entered into regarding results and the awarding of the prizes.
Disclaimer
By submitting your photo, you agree to the possibility of your photo being used on the websites, social media and promotional material of the Faculty, it's student associations and Leiden University and might be added to the exposition in the public areas of the Pieter de la Court Building.