Indonesian alumni and their souvenirs of Leiden
For many Indonesian alumni, studying in Leiden or The Hague was a life-changing experience. This is what they told a delegation from Leiden during its recent visit to Indonesia. On their return to Indonesia, some of these alumni set up the Ikali alumni network. But why did they go to Leiden in the first place, and what did they bring back home with them?
Jakarta, 25 June. Dozens of Indonesian alumni meet each other and the Leiden delegation on a warm evening in the metropolis. Location: the Erasmus House in the grounds of the Dutch Embassy. From the enthusiastic cries, it's clear that the last time some of those present saw each other was in Leiden. Others still meet up regularly in Jakarta. The alumni share their experiences with the delegation, which comprises Rector Magnificus Carel Stolker, various professors and Alumni Coordinator Hanneke Wiessing.
Godfather Henk
Ambassador Rob Swartbol, who himself spent a year in Leiden studying Russian, praised the alumni for plucking up the courage to go and study so far from home. He noted that education and student help foster good international relations. 'Alumni are very important to us,' added Rector Carel Stolker. 'They can tell us what went well and what could have gone better.'
The delegation met Indonesian alumni in Yogyakarta too; some had only just graduated whereas others were on the verge of retiring. 'What do you remember about Leiden?' Stolker asked. The answers were wide-ranging: from, 'My old professor, godfather Henk [Schulte Nordhold, ed.],' 'the University Library collections' and 'Haarlemmerstraat' to 'I met my husband there!'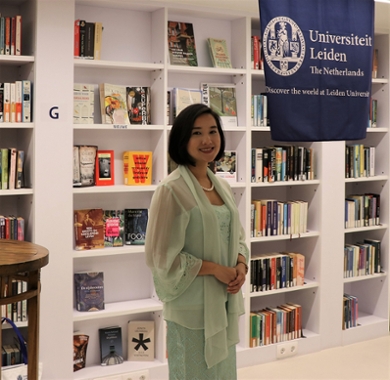 Mutiara Indriana studied International Relations
'Many generations of Indonesians have studied in Leiden and I wanted to be part of that tradition. I also chose Leiden for the expertise on South East Asia and the huge Indonesia collection in the University Library. I'm now chair of the Ikali alumni chapter so that I can give something back to the community. By forming a strong network, alumni can help each other out. We can also tell Indonesian students what it's like to study in Leiden or The Hague. It's a huge step, so it helps to hear about the ups and downs of going to study on the other side of the world.'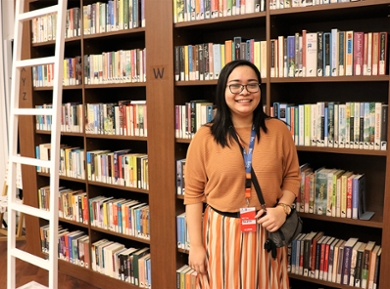 Fanzian Noviany did a master's in Public Administration
'I was already a civil servant at the Ministry of Finance in Jakarta when I was given the opportunity to do a master's programme abroad. The Public Administration programme in The Hague appealed to me because it was a good mix of theory, practice and international focus. I wrote my thesis about a case at my own ministry so my work would also benefit from my studies. The study culture was inspiring: students are encouraged to express their own opinions. I have become better at standing up for myself and am more independent too. It was a life-changing experience.'
Bunyan Wahid studied Islamic Studies
'It feels special to see my old professor, Nico Kaptein, again in Yogyakarta. I did Islamic Studies in Leiden because of how Islam is studied there and the critical use of sources. Leiden took some getting used to at first: the different culture and the cold weather. But I got to know more people and even met my wife there. She's Indonesian too and also studied in Leiden.'
His wife, Fosa Sarassina, adds: 'Our daughter is a real product of Leiden!'
Many alumni in politics and administration
The first Indonesian students started coming to Leiden at the end of the 19th century. The University now has around 600 Indonesian alumni. Many entered politics, such as Sutan Sjahrir, the first Prime Minister of Indonesia. Or they became leading activists such as women's rights champion Maria Ulfah Santoso. And there are alumni in high-ranking jobs today too, such as Hilmar Farid, the Director General of the Indonesian Ministry of Education and Culture.
KITLV-Jakarta: bridge between Indonesia and Leiden
The enthusiastic staff of KITLV-Jakarta worked tirelessly to show the delegation around Indonesia. Coordinator Zweta Manggarani, for instance, who is also an alumna of the University. 'Leiden is a home away from home for me. I studied Linguistics in Leiden and now work at KITLV-Jakarta, the Leiden University office in Indonesia. It is the ultimate place in which Indonesia and Leiden come together.'
Alumni, Hanneke Wiessing, Marrik Bellen, Pancras Hogendoorn and Carel Stolker in the Erasmus House.

Librarian Kurt De Belden presents Ambassador Rob Swartbol with the book 'Rembrandt and Leiden University.'

In the Erasmus House in the grounds of the Embassy.

The alumni dinner in Yogyakarta, which was organised by Hanneke Wiessing (right).

Bunyan Wahid and Fosa Sarassina met in Leiden.

Mutiara Indriani, chair of Ikali, joined the delegation in Jakarta and Yogyakarta.