Portraits of 28 EU citizens in Leiden by seven anthropologists
Annick Dezitter from Belgium celebrates 3 October with heart and soul: she has become a fanatical Leidener. Her portrait is part of Leiden meets Europe: an exhibition of 28 portraits of EU citizens in Leiden. City photographer and third-year Cultural Anthropology student Wilke Geurds explains.
For the exhibition, the seven city photographers in Leiden, all from the Institute of Cultural Anthropology and Development Sociology, photographed a person from each EU country who lives in Leiden. Student Wilke Geurds (20) is one of the photographers. She shot four of the portraits.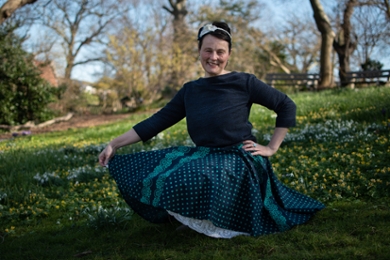 Magic moment
'We met at their favourite spot in Leiden, and they brought along an object or recipe from their home country and told their personal story. They were all so welcoming! I spoke to a couple from Luxembourg (photo above, ed.). They had baked a pretzel. Around Easter, they traditionally celebrate Pretzel Sunday in Luxembourg. Men give women a Pretzel as a sign of their love. And meeting a woman from Slovakia at the Hortus was wonderful. She was wearing a skirt from her homeland that had been printed with a special printing technique. It was magical.'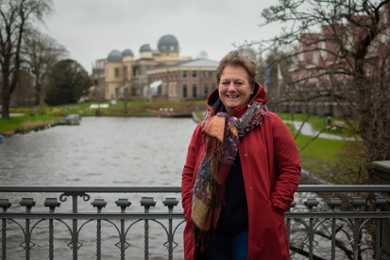 What did these cosmopolitans have to say about our country and Leiden? Geurds: 'They think Leiden is a beautiful city. We heard the usual things that people say about Leiden: it's a pretty, historical city; it feels like you're walking through a medieval city; it's a good place to explore by boat; the architecture is lovely; everywhere is within walking and cycling distance. It had struck several of them how much the Dutch cycle. One said to me: "You lot keep on cycling, no matter the weather!"'
Text: Rianne Lindhout
Photos: Wilke Geurds
See the photos until the EU elections
The Leiden meets Europe exhibition can be seen at Leiden City Hall from Monday 20 to Friday 24 May.
Seven city photographers, all anthropologists
Wilke Geurds' previous portraits include that of a girl from a foster family, the junior fire brigade and two young women who are in a relationship with one another. Geurds, a third-year Cultural Anthropology student, has been one of the seven Leiden city photographers since October. These are all students or staff of the Institute of Cultural Anthropology and Development Sociology, and each has their own theme. Geurds photographs young people with a special story, whereas others take photos of care organisations, significant places and community work. They take it in turns to provide a weekly photo spread for the Leids Dagblad newspaper.
Photos with an anthropological slant
'Our anthropological slant is apparent from the way we take our photos,' says Geurds. 'We don't leave immediately after a photo shoot, but stay longer to talk, and we meet our subjects more often. We don't usually take posed shots. We're more of a fly on the wall creating a record of daily life.' The Leiden meets Europe exhibition forms an exception here.