University meets local entrepreneurs
It was a unique meeting at the Academy Building on 10 April. Around 200 local entrepreneurs came to a networking event hosted by Leiden City Centre Management and Leiden University.
It was no coincidence that the University was hosting the event. It is celebrating its 444th anniversary this year and is keen to do so together with the city. This ties in well with the networking events for local businesses that are held at characteristic venues in the city: Hudson's Bay, for instance.
Networking
Not only were the entrepreneurs out in force, but so too were the University staff. This gave plenty of opportunity for networking. It was a different kind of event from the ones we are used to in the Academy Building. Although Beadle Erick van Zuylen – who gave the entrepreneurs guided tours of the building – was there in full finery, there wasn't the merest sniff of protocol and ceremony, which was a breath of fresh air.
Joint interest
Vice-Rector Magnificus Hester Bijl welcomed the entrepreneurs to 'the heart of the University.' She referred to the vision of Leiden City Centre Management of a flourishing, vibrant and attractive city centre. A joint interest, said Bijl because, 'The University wants the same for the staff, students and alumni who live here or come to visit. The University needs the city, and the opposite is also true. This symbiosis is becoming stronger all the time.'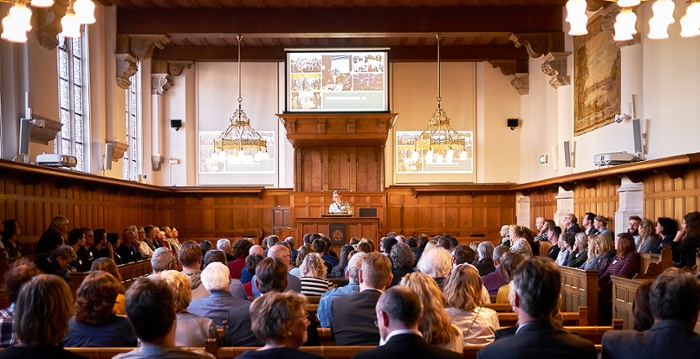 Call for ideas and questions
Bijl noted that researchers – academics and students – are increasingly helping to address problems in the city, such as safety, social issues and creating more green. Students also do a lot for the city: Quintus student association organises the Museum Night and Augustinus student association is involved in 3 October University. 'That's what we like to see and encourage in our students: social engagement. And we want to intensify it.'
Three entrepreneurs
Mark Buytelaar is a partner in the Haaglanden branch of Credion financial consultancy. He arranges funding for businesses and real estate. He is no stranger to the University: he has been to the Academy Building before and knows people who work at the University. 'But I'm surprised by the enormous number of people [6,700 ed.] employed by the University. I didn't know it was that many.'
This was Natasja Verhaar's third city centre networking event. She works at Backwerk, a café that serves coffee, juices, sandwiches, cake and savoury snacks. Events such as open days and EL CID introduction week are good for trade, she says. She had never been inside the Academy Building before. 'But that's partly because I'm not from Leiden.' She thinks the evening can be considered a success.
Gwen Peroti studied briefly at Leiden University, and has lived in Leiden all her life – and loves it there. At the moment, she is organising events at Cultuurplein (Lammerkmarkt) and Werfpop. She has worked with the University in the past, and plans to do so more in the future. 'The University is important for the city,' she says. She wants to organise Lazy Sundays at Cultuurplein with (relaxing) music and a Speakers' Corner where PhD candidates and other researchers can give a short talk about their research.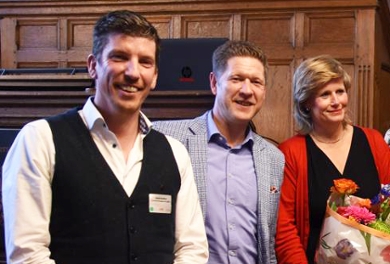 Alternative to disposable plastic cups
Leiden centre managers, Erwin Roodhard and Hans Genotte, and Councillor for Economic Affairs, Yvonne van Delft, shared the latest city-centre news with the entrepreneurs. Van Delft announced that Leiden will have a solution to a burning question that affects the University too: the disposable plastic cups that litter the ground after every event. October 3 is particularly notorious for this. Leiden wants to introduce reusable cups with a deposit at all events, so this will also apply to events such as introduction weeks for new students.
Active role in the 444 celebrations?
How is the University celebrating its 444th anniversary with the city? Renée Merkx, Director of Strategic Communication and Marketing at the University, gave a summary of those celebrations that have already taken place – such as the Dies Natalis – and those that are yet to happen. On the agenda are presentations and lectures at Museum Night on 18 May, guided tours of University buildings in the summer, a tour of Rembrandt paintings transposed to huge banners affixed to University buildings and a 44.4-km cycle tour between Leiden and The Hague. These are often activities where Leiden businesses can also earn a few bob. Merkx invited those entrepreneurs who want to take a more active role in the 444 celebrations to get in touch.
Merkx ended with an important year: 2022. That is the year in which Leiden will be European City of Science, and thousands of scientists will descend on the city for the biggest scientific conference in Europe.
Ending with a quiz
The presentations ended with a quiz on the University [banner photo]. The quizmaster was Lilian Visscher, Director of Alumni Relations and Fundraising at the University and a member of the board of Leiden Centre Management. Many of those present proved to be surprisingly well informed about the University – or good at guessing. Then it was time for drinks and networking. Because that was what it was really all about.
Text: Corine Hendriks
Photography: Berdi Schouten and Emile van Aelst
Banner photo: the quiz
Mail the editorial team
For more photos see Leidse Glibber