The mission of Felienne Hermans
'A woman with a mission'. In this honourable way, Dean Geert de Snoo described computer scientist Felienne Hermans at the official opening of her new research group Programming Education Research Lab (PERL). He is right: Felienne has a very important mission. With her new research group, she will do everything possible to improve programming education in Dutch primary and secondary education.
But how?
'I hope that with PERL, we can give a scientific answer to the question "how?" Many schools really see the need for programming education and what to implement it, but don't know how,' says Hermans. On 5 March the PERL research group was festively opened in the presence of many university colleagues, primary and secondary school teachers, policymakers and students interested in programming education. Prior to the official opening ceremony, those present were treated to an interesting mini-symposium, with lectures by experts from within and outside the group.
Full programme
Marcus Specht, scientific director of the Leiden-Delft-Erasmus Centre for Education and Learning opened the afternoon. Specht is professor of Digital skills & Computational thinking and Learning technologies. The Leiden-Delft-Erasmus Centre for Education and Learning is a platform for research, innovation and training of teachers in university education. PERL, part of the Leiden Institute for Advanced Computer Science (LIACS), works together closely with this centre. Specht was followed by a full programme, in which a large number of speakers, from various angles, discussed the state of affairs of programming education in the Netherlands. With the words 'Programming is indispensable in our society, so we are very happy with PERL in Leiden' dean Geert de Snoo concluded the festive afternoon.
Learning to program
PERL will be concerned with a big variety of subjects, 'as long as it falls within the theme: how do we teach people to program', explains Hermans. 'Of course, I have my own interests – at the moment I'm searching for the best didactic methods for programming- but the beauty of such a research group is that it also attracts students with their own research questions. For example, one student is now investigating the computer Olympiad: what do the tasks of the contest actually test and how does that fit in with learning objectives at a university, for example? That is a completely different angle than what I focus on.'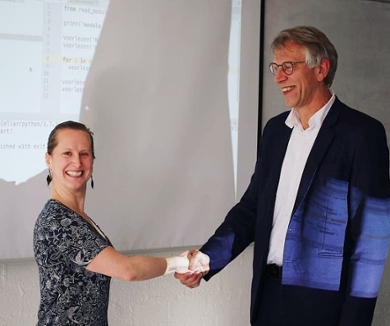 Hermans herself is working on a model for 'direct instruction' in programming education. This was also the subject of her presentation during the kick-off. 'The inventor of programming for children was a great believer in 'discovery-based learning': working with few instructions', she says. 'Yet, now it appears that this strategy is not working so well at all. Children learn better through explanation, cramming up lessons and lots of practice. I compare it to learning to play a musical instrument. It is not effective to just give a child a guitar and say: "do your thing", isn't it? That's why I think programming education should be changed.'
See also the website of PERL: http://perl.liacs.nl/?lang=nl
Source: Brigitte Bloem