Experience Day: what's it like to be a student?
What is it like to be a Leiden University student at Campus The Hague? These prospective students found out on the Experience Day of 30 March.
Tim – International Studies
Tim: 'I found out about International Studies through Studiekeuze123 (a Dutch studyportal). So far, I've attended one lecture and it seems like a good study programme. I've studied International Business Administration before, so I'm used to an international classroom: it's very interesting and it's nice to get familiar with people from different backgrounds. I want to find out today if the programme fits what I'm looking for, I'm mostly interested in how economy comes together with history.'
Tom – Urban Studies
Tom: 'I've always enjoyed geography classes, so when my teacher told me about Urban Studies, I wanted to know more about the programme. In the second year, you specialise in one of four themes and two of them, the safe city and the sustainable city, seem really interesting to me. The study programme is fully taught in English, but the students and lecturers say that you'll get fairly quickly used to it. I think would be interesting to have classmates from all over the world.'
Nicole, Maryclare and Francisco – Student Ambassadors
Nicole: 'The Experience Day is there to give you more perspective about a programme. You can learn more about the content and hopefully it will help you make a decision. And for parents, there is a special programme, so they can also find out more about the city (The Hague) and the university.'
Maryclare: 'As student ambassadors, we represent Leiden University and more specifically: our study programmes. We are present at information activities, but also give presentations on high schools and introduction days. It's a very fun way to meet new people and prospective students. I wasn't able to go to an Experience Day, so I am glad I can help other people find their way.'
Francisco: 'During the Experience Day, you are the student. The lectures are very much alike and give a realistic image. You also get to talk one-to-one with people involved in the studies.'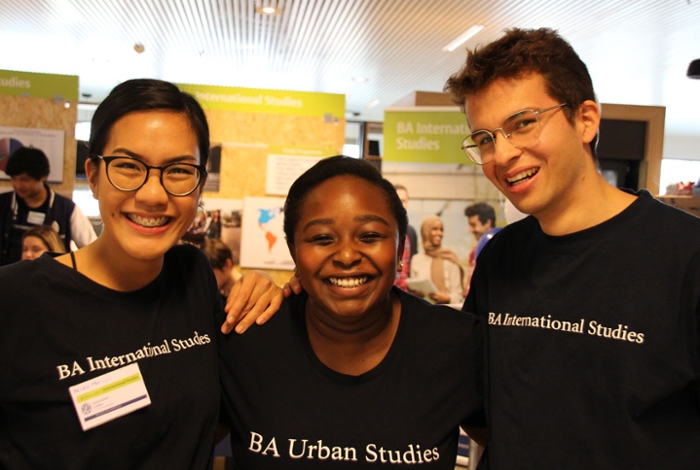 Dennis van Leeuwen – Coordinator of Studies
Dennis: 'Because there are so many study programmes and tracks at the university these days, it's hard to choose your future study. It's important to find out what you want to do: maybe the programme isn't for you, that's okay, there are other programmes to pick from. The Experience Day helps students to get a realistic image of what it's like to be a student. Aside from following lectures, you'll get the opportunity to ask questions to students and lecturers about the programme. And if you have questions related to courses, possibilities and application, you can talk with the Coordinator of Studies.'
Couldn't go to the Experience Day?
Join the Student for a Day for your programme of interest. Read more here.