Anita Casarotto receives LUF grant for unlocking Mediterranean legacy survey data
Mediterranean archaeologist Dr Anita Casarotto has been awarded a grant of € 5,800 from the Byvanck Fonds for her research on unlocking important data for regional archaeological investigations in the Mediterranean. In collaboration with Leiden University and the KNIR (Royal Netherlands Institute in Rome), she will use this grant to collect a good sample of legacy survey data from one Mediterranean country, namely Italy.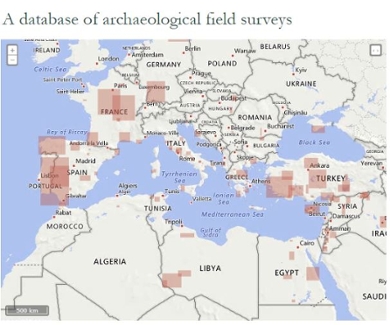 Investigating settlement patterns
Survey data are the most suitable type of archaeological data to investigate large-scale settlement patterns. In the Mediterranean region, field-walking survey has been the most widely used method to detect archaeological sites and collect data about these sites. In the past the preservation, integrity, and accessibility of these data were not ensured by a majority of projects. The result is that scholars have accumulated an impressive quantity of legacy data from their previous surveys, which are trapped in locked databases.
Fasti Online Survey allows making survey data and related outputs findable and accessible: it is a ready-to-use digital system developed by the KNIR (Royal Netherlands Institute in Rome) with the support of the AIAC (International Association for Classical Archaeology) that aims to bring together in a unique platform the survey data of the ancient Mediterranean. This project will focus on the legacy survey data of Italy to showcase the potential of the system and foster wider use in the Mediterranean.