Tyron Offerman: 'One straight line from when I was 5 to now'
Tyron Offerman wants to get the most out of life. This 28-year-old computer scientist and business economics graduate has an impressive three jobs: IT strategy consultant, and lecturer and PhD candidate at Leiden University. All his own choice. 'I do a lot of sports. I have to to be able to keep all those balls in the air.'
It takes some chutzpah to say in your LinkedIn profile that you had a Saturday job as a postman at PostNL while you were at school. But it shows Offerman is someone who isn't scared of getting his hands dirty. His profile shows that he had part-time jobs right up until he graduated.
Student recruitment
Most of this work was while Offerman was a student ambassador at Leiden University. He was ambassador for his own programme in Computer Science and Economics, which was brand new at the time: he talked to prospective students about the programme at Open Days, went on school visits and answered questions. He also worked at the central student recruitment department where he was the face of the corporate campaign for a year. 'My mother and my aunt travelled specially to Leiden Central to see my face on the enormous billboards there; that was great!'
Likes the good life
Offerman actually needed to have all these part-time jobs ('My parents are by no means rich.'), because he liked and still likes the good life. A festival here, a trip there... 'And then at some point I had a car.' Student parties were not really Offerman's style. 'Three of us - two students of Medicine and I - rented a flat together. All three of us were very focused on our studies and on sports.'
Budding IT specialist
The Computer Science and Economics programme is made up of Computer Science in Leiden and Business Economics at Erasmus University. Offerman knew from a very young age that this was what he wanted to do, although this particular programme was nowhere on the horizon at that time. 'My father is a systems administrator and at home I always got stuck into whatever he was doing on the computer. I wanted to learn about everything. I built my first website when I was five.' There's a very direct line between Offerman's interests as a child and what he does now: he works as a consultant at the interface between IT and business.
Who: Tyron Offerman
What: BSc in Computer Science and Economics, MSc ICT in Business
Member of student association: No
Favourite spot in Leiden: 'HePatho, the student club for the Medicine M.F.L.S programme. I had a really great time there with my student friends from that programme.'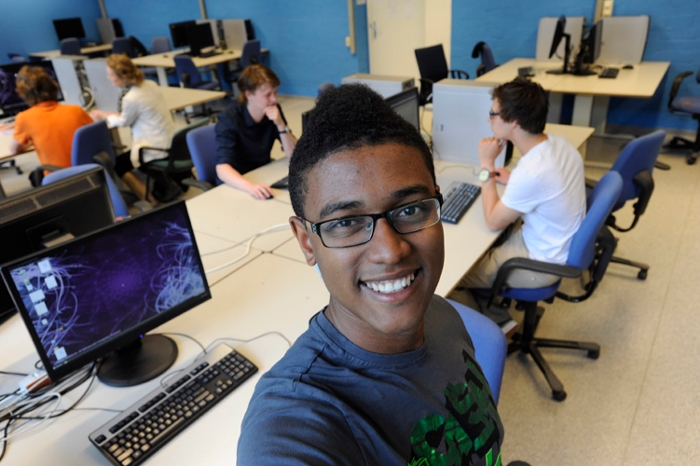 BearingPoint
Soon after graduating Offerman started working as an IT consultant for CapGemini, where he had done his internship. He had no difficulty finding a job; even before graduating, students of the Computer Science and Economcs programme are approached by potential employers. After two years, in 2017, Offerman switched to BearingPoint, a consultancy firm in Amsterdam, where within a year he was promoted to senior consultant. The company has around seventy staff in the Netherlands and some five thousand worldwide. Offerman has never regretted the move for a second. 'I like the people at BearingPoint. It is one big family where social contacts are really important.'
Thinking about the 'how'
What does his work actually entail? 'Every company and every organisation wants to keep up with developments in IT, but sometimes people have no idea about the 'what' and 'how'. We support them in their thinking about the issue: what is the need, does IT play a big role in the viability of the organisation, and if so, how? Then the question is: do you continue along the lines of what the company has in mind, or do you need to come up with something different? We also act internally as an intermediary between the strategic and operational departments, or even between the IT department and the company directors.'

We talk a bit about the persistent problems of IT projects within government: the laborious work involved in developing a common system for all police regions and the chaos within the Tax Authority are just a couple of the many examples. Hundreds of millions have gone down the drain and suppliers of systems are rarely - or even never - held accountable for systems when they go wrong. Offerman: 'The demands made of a system are often unrealistic, and the offers made by suppliers are equally unrealistic. I think public tenders encourage IT companies to give quotes below the real price and they just hope that when it comes down to it more money will be made available.'
Easier to build a house
Offerman compares implementing IT programmes to building a house, which is a much clearer, more concrete project. 'IT is intangible and it's much more difficult to make firm calculations. You can touch a house physically and you can also work out how strong the foundation has to be. If I'm honest, I prefer pulling the plug on an IT project if it has overshot the budget. It's better to do that than to struggle on.' There is now a trend for suppliers to take more responsibility. A supplier can never give a company guarantees about any extra income to be generated from IT: there are all kinds of reasons to do with the market and other developments that are too uncertain. 'That's why,' Offerman explains, 'you see IT suppliers increasingly agreeing to share the risk; in other words, they will share the profit or the loss. And many companies also like to get intermediaries like BearingPoint involved.'
Part-time lecturer
As soon as Offermans graduated, he was invited to teach one of the subjects in his former programme: Integration: Business-IT Alignment. 'I was only 24 but I had gained a lot of practical experience with my internships at Centric and Cap Gemini, and as adviser to Stein en Groentjes, a company set up by students.' Sharing his knowledge with students is something he enjoys.
PhD candidate at LIACS
As well as being a consultant and a lecturer, Offerman is now also working on a PhD track. 'Professor Aske Plaat asked me if I was interested in taking this on because so little research is done at the interface between IT and business administration. So, I'm now an external PhD candidate; BearingPoint was prepared to invest in me.' Offerman is researching the capabilities of organisitions in the context of IT. He is conducting literature studies, observing workshops and conducting interviews. Strict agreements have been made about the separation between the content of his work as a consultant and as a PhD candidate.'Once companies understand that, they are happy to help me with my research.' Offerman now works four days a week for BearingPoint and one day as a lecturer and on his PhD. He hopes to have finished his dissertation by the time he is 35.
A different life
If he looks further ahead into the future, Offerman expects that in ten years time his life will be different. He wants to buy a house on Curaꞔao, where his roots are, and to work with young people, getting them interested in and teaching them about computer science. Right now, he's single and he lives in The Hague, with two rabbits for company. He sees them as the personification of his biggest hobby: basketball. 'They can jump incredibly high and they're really fast! I don't play basketball with a club, but I do often shoot the odd ball with my nephew. I do a lot of sports: I need to keep fit if I want to be able to carry on with the kind of life I lead.'
Text: Corine Hendriks
Mail the editors