Touching Treasures: The History of Photography
Due to an overwhelming amount of enthusiasm for Touching Treasures: The History of Photography, another workshop will be organised on 13 May 2019, from 15.00 to 17.00. There, the Beyond Content thematic program will continue in the Vossiusroom at the Leiden Univerisity Library (UBL). The workshop will deal with photography, specifically the many technical and artistic developments that have changed use of the medium since its invention in 1839. Curator for photography, Maartje van den Heuvel, will provide instruction and direction. This workshop doesn't require any prior knowledge of the subject.
History of Art Photography
Have you always dreamt of being one of the white gloved experts holding fragile art objects on TV? Is the development of photography as an art form something you are interested in? This workshop provides a beginners guide for both. Using a representative selection from UBL's photo collection, Maartje van den Heuvel will explain the many different processes and methods that have been used by photographers throughout the past two centuries and the goals with which these techniques were put to use. The workshop won't just be a history lesson, however. Many of these methods are used by contemporary art photographers as well. Links between historic and current photographic and technical trends will be made as often as possible.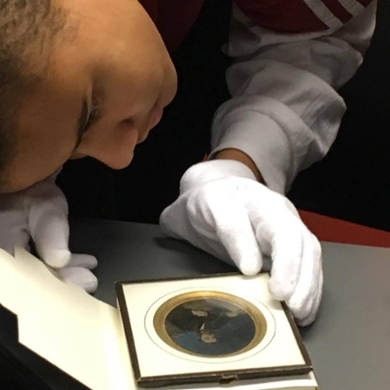 Special collections
Alongside the large amount of printed and written material, the UBL special collections contain a broad collection of photographic materials. These materials range from original photos and negative prints to photo-related graphic objects. Moreover, it is the oldest public collection of its kind in the Netherlands. The collection process, which was started at the beginning of the twentieth century, was conducted with the goal to create a unique and extensive retrospective of Dutch photography from 1839 until the current day. Every kind of development process, and many different styles, appearances and techniques throughout Dutch and international photographic art history are represented.
Beyond Content
The organization of the Touching Treasures workshops is part of a thematic program that has run for the better part of a year to bring the general public closer to the collections of the UBL. As the name would suggest, the methods and techniques of creation and preservation are central in the education UBL provides through its programmed events. There are few art forms that require more technique, skill and craftsmanship than art photography, which is why the topic was a perfect choice for a dedicated workshop. This is an excellent opportunity to hear an expert lecture whilst holding history in your hands.
Sign-up
Sign-up for this workshop is limited and will close on 8 May 2019 at 17.00. Use the button below to sign up, or call 071-527 2832
Sign up now!