Lecture Oliver Rathkolb - The End of Social Democracy?
On 11 March, Oliver Rathkolb (University of Vienna) held a lecture about Social Democracy.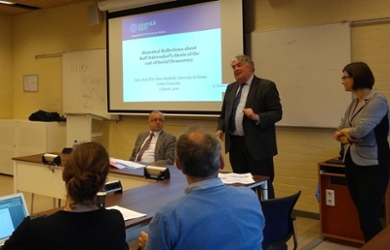 Prof. Dr. Oliver Rathkolb, Chair of the Department of Contemporary History, University of Vienna, Austria:
"During the late 1990s Social Democratic governments and coalitions with Social Democratic prime ministers or chancellors governed 12 of the – then – 15 EU countries and held a majority in the European parliament until 1999. This number declined already in 2006 from 12 to 5. The recent further weakening of the Social Democratic parties seems to be a reaction of voters during the economic and financial crisis 2008-2013: PASOK in Greece, the SPD in Germany, the Hungarian Socialist Party (MSZP), alongside the Dutch Labour Party (PvdA) and the UK Labour Party. The 2017-2018 electoral disaster for Social democratic parties in France (-32%), Netherlands (-19,1%), Hungary (13,7%), Germany (-5,2%) might be interpreted as a result of the heated migration debate including Austria despite the Social democrats scoring +0,1%. Even in Denmark and Norway Social democrats are not part of the government anymore and in Sweden only as the head of a fragile minority government.
In 1983 already, – 6 years before the fall of the Berlin wall and the beginning of the end of the Cold War – the liberal sociologist and politician Ralf Dahrendorf argued in his book "The end of Social Democracy" that Social Democracy has reached most of her social and political aims and visions which have even been absorbed by other political parties.
In this lecture I shall try to analyze the reasons for these obvious trends within the framework of globalization effects. I will compare the impact of the turbo-charged globalization pre-1914 on societies in the late 19th century and the booming Manchesterism with the ongoing digital globalization since the 1980s, which resulted in a period of ''rampant individualism''. This later trend was pushed by Thatcherism and Reaganomics (Dahrendorf). This trend might be explained by Karl Polyani's idea of the "Great Transformation", published in 1944. This might help to discuss the frightening forecast by Dahrendorf from 1997. Dahrendorf warned that the unleashed forces of globalization could end in "a century of authoritarianism" if the social networks and policies continue to erode."