Leiden University celebrates 444th birthday with residents of Leiden and The Hague
Leiden University celebrated its 444th anniversary with a historical procession on 8 February. It celebrated this year's Dies Natalis in time-honoured fashion with a ceremony in the Pieterskerk, but broke with tradition by sending professors out to primary schools.
The eye-catching procession – complete with drummers, flautists and a standard-bearer – was a playful nod to the foundation of Leiden University exactly 444 years ago: in 1575 a colourful procession also paraded through the streets of Leiden to celebrate the first day of the brand-new University. To mark this and to strengthen its ties with the cities of Leiden and The Hague, the University is organising various activities in 2019.
'We are throwing the doors wide open and venturing into the big wide world,' said Rector Magnificus Carel Stolker in his opening address. 'Today, 66 professors set off to more than 40 primary schools in Leiden and The Hague to teach some 1,600 children. This symbolises what we want to achieve with our 444 celebrations: making contact with new groups and doing this in unexpected ways to make sure more people hear about what we do. They're our neighbours after all.'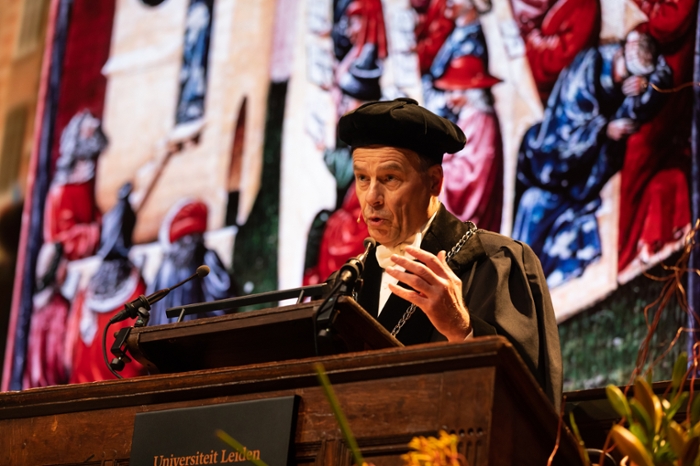 Stolker also drew the audience's attention to other activities that are planned in the University's two cities. Academics will be doing citizen science with residents of Leiden and The Hague, exhibitions are opening in the town halls and the University is sharing its knowledge in a new series of podcasts. To stress the importance of this, Stolker quoted honorary doctor Robbert Dijkgraaf: 'There is a large group of people who don't seek out science as a habit. You have to use some form of guerrilla tactics to break into this group.'
Dies lectures on new media
Sybille Lammes, Professor of New Media and Digital Culture, based her Dies lecture on the teachings of historian Johan Huizinga, and in particular his take on homo ludens or humans at play. Huizinga was convinced 'that human civilisation arises and unfolds in play, as play'. And he considered mechanisation, the predecessor of digitisation, to be an enemy of play. In this era of smartphones, apps and games, it's hard to keep espousing these ideas. Apps such as Tinder that are not primarily games also contain playful elements. Progress, civilisation and culture are more than play alone, and play can include chaos and even nihilism. What remains, however, is that play creates new worlds or another way of 'being'.
'Children have become a commodity through their smartphones,' warns Simone van der Hof, Professor of Law and Information Society, in her Dies lecture. Children constantly produce content and behavioural data – including personal and often intimate information – that is capitalised by social media platforms and other businesses without the child's real consent or that of their parents. Huge sums of money are earnt with this surveillance-capitalism. Current legislation, although insufficiently equipped to deal with the digital world, does offer some pointers for combatting this. For instance, children are entitled to protection from economic exploitation. 'Economic' is easy to prove and there are clues for 'exploitation'. The right to information, a right that children also possess, must be respected.
Sybille Lammes gave the first Dies lecture. She spoke about the contemporary relevance of historian Johan Huizinga's 'people at play'.

In the second Dies lecture, Simone van der Hof talked about how companies make big money from the online content and behavioural data of children.
Honorary doctorates for Melissa Little and Robbert Dijkgraaf
On this its 444th Dies Natalis, the University is conferring two honorary doctorates. The first is for Melissa Little, a cell biologist at the University of Melbourne. Little is a pioneer in the field of regenerative therapy for kidney diseases. 'Her scientific discoveries could help solve the shortage of donor organs,' said nephrologist Ton Rabelink in his laudatio for Little. Little studied how embryonic cells develop into a kidney cell and finally into a fully formed kidney. 'In the end, Little and her team managed to grow a fully working piece of kidney tissue in a petri dish, and this application is now used all around the world. This work radically alters the perspective of patients with a kidney disease: from chronic disease to cure.'
After Little, famous physicist Robbert Dijkgraaf was awarded an honorary doctorate for his impressive research at the intersection between physics and mathematics: his calculations of the properties of black holes in the universe, for instance. Honorary supervisor Professor of Quantum Optics Eric Eliel said, 'Unifying Einstein's theory of gravity with quantum mechanics is the ultimate goal of our research; this is seen as the Holy Grail of physics.' Eliel praised Dijkgraaf's innovative research into string theory, the theory that tries to explain the fundamental forces in one all-embracing theory. In addition, Dijkgraaf, who is Director of the Institute for Advanced Study in Princeton, has an important role as a communicator: in his TV appearances, he is able to clearly explain topics such as the Big Bang and quantum computers to an audience of millions.
Melissa Little received an honorary doctorate for her work as a cellular biologist. She is a pioneer in the field of regenerative therapies for kidney disease.

Robbert Dijkgraaf received an honorary doctorate for his work as both a scientist and a science communicator. 'I still feel like I'm playing for Holland, despite having transferred to a foreign club.'
Universities as a soft power in times of Brexit
In his closing words, Stolker spoke about Brexit, which will most probably be a fact on 29 March. He called on the audience not to be too downhearted because even if the UK and EU do go their separate ways, he said, the collaboration between universities will undoubtedly continue. 'Never underestimate universities as a vital and connecting force. Education and research are a form of soft power in the complex international relations between countries. So although Europe and Russia have a very strained relationship, they work well together in research and education. The same is true for America and Cuba, for instance. All these researchers and students are spinning a web across our planet, a web of people who talk, think, write, stay up all night in their student houses and dream together. Dream about bringing the world together and solving the major issues of our time.'
Students of ACPA performed during the Dies Natalis.

The audience listening intently during the Dies lectures.

The audience listening intently during the Dies lectures.

Students of ACPA performed during the Dies Natalis.

In 2019, we celebrate 444 years of Leiden University!